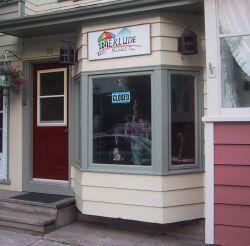 Stringer David Joseph Malahoff was first to spot Interlude a new café on Kent Street advertising "bubble tea." Oliver and I took a field trip over this evening to take a look, but they were closed. Peering in the window, things look very interesting. Perhaps all the Charlottetown firefighters will become bubble tea addicts now?

In other coffee and tea news: the Formosa Tea House has changed its hours: they're now open from Noon to 6:00 p.m. (an hour later in both opening and closing). My friend Ann commented that if they extend forward by about another six hours, they'll hit the sweet spot for my patronage.
Also, renovations to the former Uncommon Grocer space on Queen St. continue, as Cora's Breakfast and Lunch readies for operation.

Keep eating…