I moved into my office on Fitzroy Street in the fall of 2003; it wasn't too long after that that construction on what insiders called the GOCB – Government of Canada Building – and what we now know as the Jean Canfield Building, got started across the street.  Watching the building's pieces come together every day a little more gave me an unusual look at how a building comes together; the fact that the building was designed to be unusually energy efficient meant that this involved as much "watching solar panels get hoisted onto the roof" and "watching the green roof get installed" as "watching the concrete trucks in action."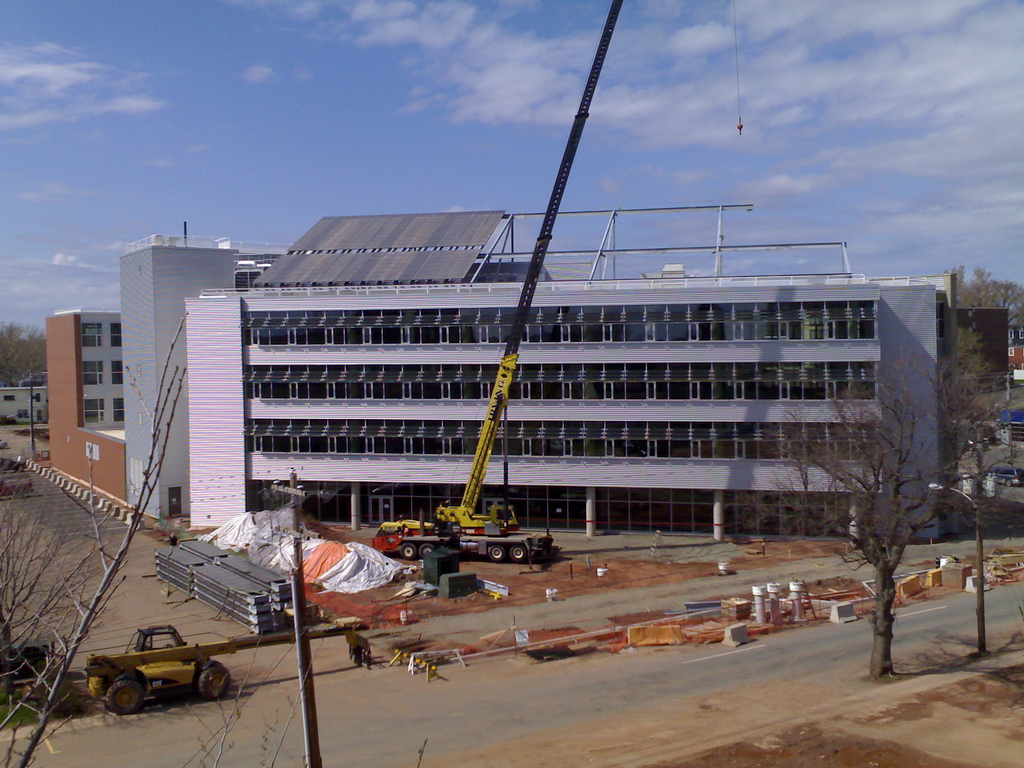 The building officially opened and 2008, but despite my daily proximity to it I'd never gone further than the lobby, and while I had a vague sense, from the news and from the obvious things like the solar panels, of its energy efficiency, I knew nothing of the details.
The building was designed by a partnership of local firm BGHJ and the multinational firm HOK.  Locally, architect Larry Jones was the lead for BGHJ, and as he's been on the project for almost a decade, he knows an awful lot not only about the Canfield building specifically, but about what it takes to design a building with energy efficiency as a primary design goal.
Larry generously arranged to take me on a tour of the Jean Canfield Building last week – a "cook's tour" if you will – and I was shooting video as we toured.  The result is Design with Energy in Mind: Jean Canfield Building. We start at the top of the building beside the solar panels, and then move inside to learn about the air handling and lighting systems and the green roof, and finish up at the "pocket park" outside to discuss how BGHJ got involved, and what it takes to make a "green building."