There was a great confluence of GTD energy washing over me today. First, I listened to the latest Inside the Net wherein Amber and Leo interview Merlin Mann of 43 Folders. Then, following up on a mention of Kinkless GTD, I upgrade my OmniOutliner to "pro" and installed the set of add-ons known as kGTD. Finally, I spent about 3 hours emptying my email in-box, either deleting, archiving, or moving items into my snazzy new GTDly outline. And so now, for the first time in many months, I've achieved:

And: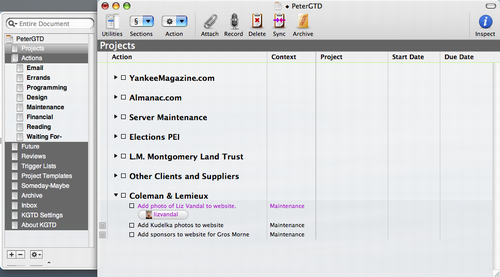 I'm the last one to adopt new "organizational systems" like Getting Things Done; I'm just too suspicious. But the coincidence of overwhelmingness, an organizational system, and a cool Mac OS X tool that can help has pushed me over into the deep end.
I'll let you know if it works.