At the November meeting of the PEI Electric Vehicle Association there was considerable discussion about matters related to electricity and our provincial utility, Maritime Electric.
While it's always good to hear people talking about the source and use of energy, I was dismayed that much of the discussion was based on assumptions and half-truths, and I resolved, at the end of the meeting, to see what I could do about getting electric vehicle owners and Maritime Electric in the same room.
This effort came to fruition last night as an overflow crowd packed into the company's boardroom for a wide-ranging discussion of the province's electricity future, and where Maritime Electric and electric vehicles fit into it. Maritime Electric's formal presentation was scheduled to last 15 minutes; it stretched over 2 hours as we all chimed in with questions and suggestions.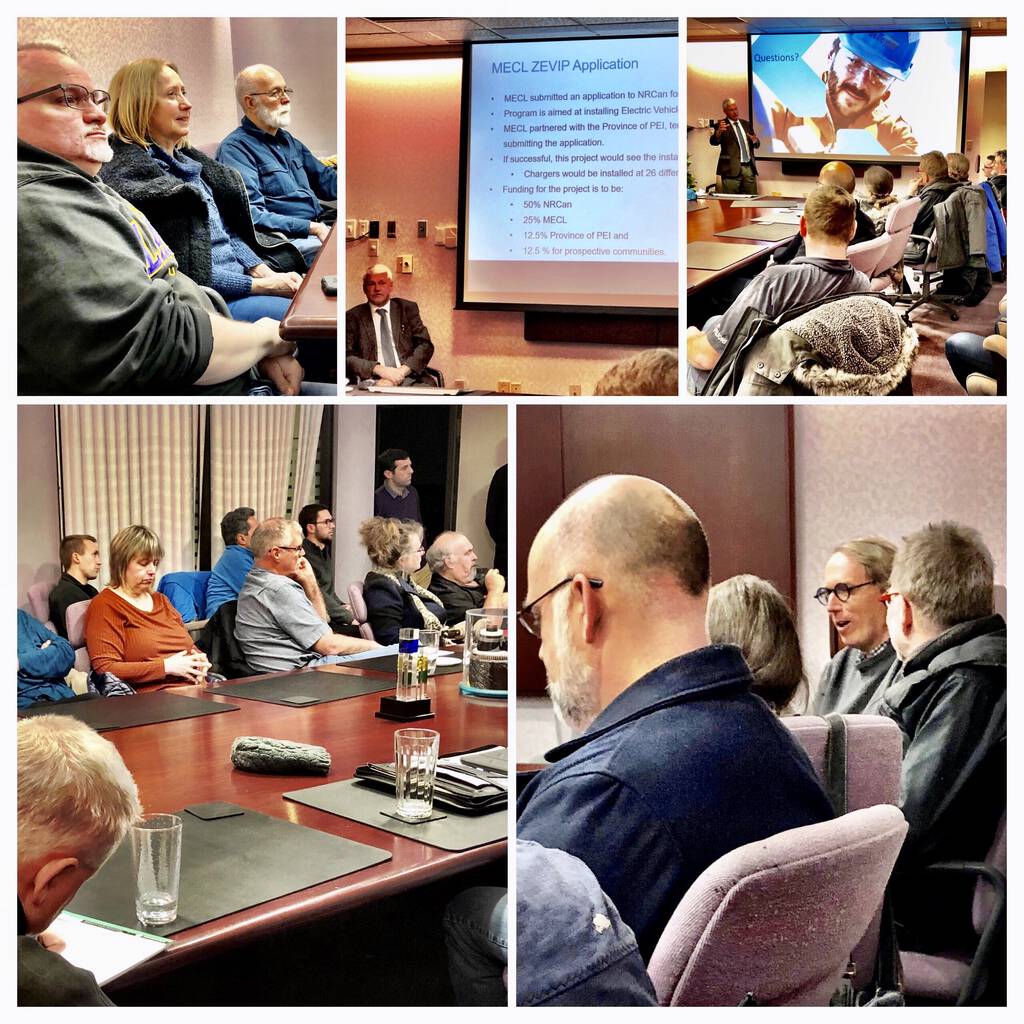 While I learned a lot last night, by far and away the most interesting and useful information I learned was:
Electricity purchased from the mainland–about 60% of PEI's needs–has an estimated CO2 content of 0.3 kg/kWh.
When the 25% of electricity generated by on-Island wind is factored in (about 25% of the total), the overall content of the electricity supply is 0.2 kg/kWh of CO2.
These numbers are interesting and useful because they allow me to much more easily calculate the average carbon impact of my electricity consumption:
For example, today at 100 Prince Street we've used 2.48 kWh of electricity so far; at 0.2 kg of CO2 per kWh, that's 0.496 of CO2 emitted today to toast our bread, start up the furnace, charge our devices, power the TV, run the lights.
Over the last 5 years, we've averaged 14.56 kWh per day of electricity usage in our house, or a total of 5,314 kWh per year; that consumption translates to just over 1 tonne of CO2, or 333 kg per year for each member of our family. This in the context of the annual climate budget for each person on Earth being 2.3 tonnes per year.
This week our Kia Soul EV has been averaging 18 kWh/100 km; that translates to 3.6 kg of CO2 per 100 km driven.
Beyond what I learned about emissions and transmissions and generation last night, the most heartening aspect of the meeting was that in one room, on a cold winter's night on PEI, we had our electric utility, the province's manager of energy policy and programs, two MLAs from the Official Opposition, and, depending on how you count, about 1/3 of the electric vehicle owners on the Island. I'd hazard a guess that getting a group together like this is only possible on Prince Edward Island, and it was wonderful to be a part of that.