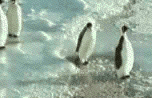 If I were a social scientist, what I would study is the "cc" lists in those email messages that friends, family and acquaintances send around of the "here's a funny joke" or "get a load of this" variety. In those lists of addresses you can see the ties that bind us together; study them, and I think you could make very interesting "social maps."
Here's an example: I got an email with the animated penguin image pictured here from a friend. She got it from someone she works with who, in turn, got it from someone who works at the Patterson Palmer law firm in Charlottetown (who sent it to a whole host of people all around PEI) who, in turn, got it from someone in Nova Scotia who seems to have received it from her husband who, in turn, got it from someone at the Hemming Weir Casey law firm in Nova Scotia.
There are over 100 'cc' people listed in the email at this point. And we're all connected in some obscure way.
For some reason I find this deeply interesting.