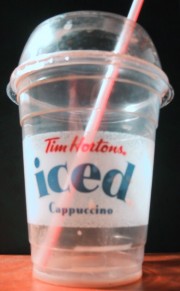 I am not a coffee drinker. At all. Never have been. However I'm fairly confident that Tim Hortons' Iced Cappuccino bears little relation to bona fide cappuccino.
That said, Tim Hortons' Iced Cappuccino is my current most favourite drink in the whole wide world, something that, given the caffine and other goo that drinking one pumps into my body, is no doubt to my detriment.
Curious to know what the nutritional value (or deficit) of the Iced Cappuccino is, I was happy to find Tim Hortons' Nutrition Guide [PDF] on their website.
And so I was able to learn that a 10 oz. Iced Cappuccino made with cream (apparently I have the choice of having it made with cream or with 2% milk) has 230 calories, 2 g of protein, 11 g of fat, and 87 mg of caffeine.
This compares to 78 calories, 0.6 g of protein, 4 g of far, and 106 mg of caffeine for a 10 oz. regular coffee.
If the on-shore flurry activity and general slush are getting to you, take a look at Air Canada's seat sale, announced today. There are quite good fares: Halifax to London return for $448, Halifax to Bermuda return for $358.
Oddly enough, the Tim Hortons menu item with the most total fat is the Garden Vegetable Sandwich, with 23 g (just a titch above the chocolate glazed donut, with 22 g). And to think I'd been ordering that as a "healthy alternative"!
The USDA Dietary Guidelines for Americans tells us to use fats and oils sparingly: they suggest a healthy diet contains no more than 30 percent of calories from fat. About 45% of the calories in a Garden Vegetable Sandwich are from fat; in an Iced Cappucino, it's about 43%.
WARNING: I am not a nutrionist. We suggest you consult a nutrionist before you stop or start eating Iced Cappucinnos or Garden Vegetable Sandwiches to determine if they're right for your diet. If you die a thousands deaths from drinking too many Iced Cappuccinos, we cannot be held responsible. But you will probably die happy anyway.