I woke up at 3:45 a.m. on Saturday morning. I showered, got dressed, made myself a coffee and some granola with yogurt.
After my quick breakfast, I took my bicycle trailer out of the front room and set it on the sidewalk, and filled its bucket with my suitcase and backpack. I wheeled my bicycle out of the front hall and hooked it up to the trailer, using the light on my phone to help me guide the cotter pin through the hole that holds it in place.
And then I rode my bicycle to the airport.
I'd only hatched the plan the night before.
My habit for more than 20 years when leaving on an early morning flight from Charlottetown has been to call Coop Taxi and order up a cab for an hour before departure; on Friday night I was about to do the same thing when it occurred to me that, given that I'm attempting to make this trip to New Hampshire that I'm now in the midst of, as low-carbon-emitting as possible, I should consider the possibility of taking my bicycle instead of a taxi.
This was an inane idea.
My flight was for 6:25 a.m.
The sun wasn't going to rise until 6:50 a.m., by which time I'd be in the air for 25 minutes already.
The weather forecast called for a temperature of 7ºC.
Charlottetown Airport is 5 km from my house and I'd only ever taken an electric-assist bicycle there before; while friends of mine regularly head out for 100 km jaunts on a Sunday afternoon, 5 km is a long distance ride for me.
Clearly this wasn't going to work. I gave up on the idea.
Then fate intervened: I turned my attention to writing an email to my friend Thelma, and I added, at the end:
I'm off to New Hampshire in the morning via the early flight to Montreal. I'm currently trying to decide whether my climate commitments extend to riding my bicycle to the airport at 5:00 a.m. in 7°C weather.
By writing this I unwittingly caused the idea to take on a new life. And to come up with real reasons that this wasn't possible ("Well, Greta Thunberg, I couldn't really ride my bicycle to the airport because my hands would get cold…").
The die was cast.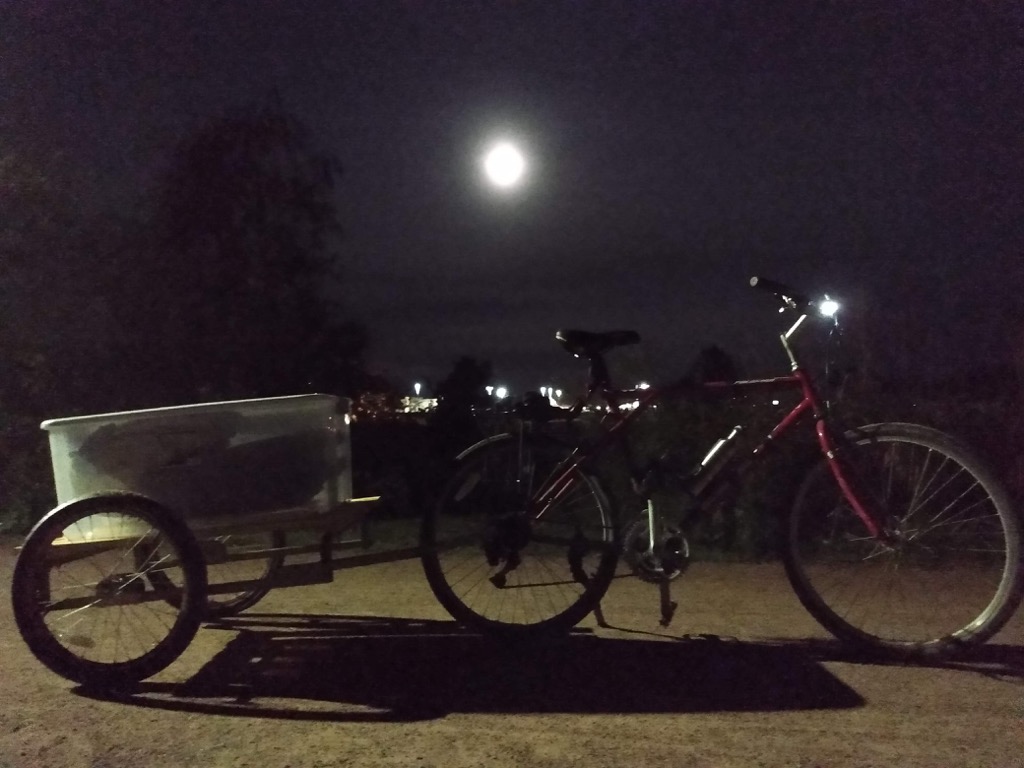 Google Maps told me that it would take me 27 minutes to ride to the airport. It took me 44 minutes: I left at 4:45 a.m. and arrived at 5:28 a.m. The extra time was due a combination of the aforementioned darkness (the Confederation Trail is well-lit until you get to Mount Edward Road, then it's shrouded in inky darkness), hurricane-induced trees across the trail between the bypass and the airport, a couple of water breaks, my pulling a trailer, and my relative lack of fitness (that said, this trip wouldn't have been possible without the uptick in fitness from a summer of cycling almost every day).
The going was mostly flat or a gentle upslope, with the exception of the stretch of Sherwood Road from the trail up to the airport which defeated me and required that I hop off and push (I reverted to riding when I realized that although riding was hard, pushing bike and trailer was harder).
When I pulled into the employee parking like just before 5:30 a.m. my airplane was ready and waiting.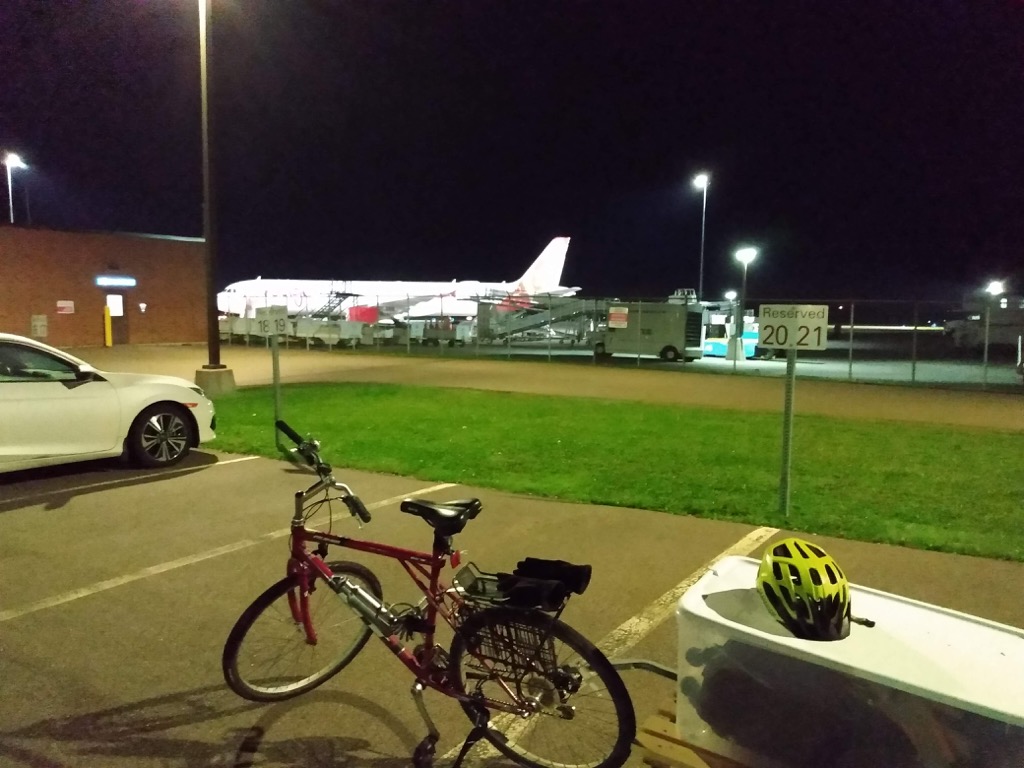 The only bicycle rack at the airport is by the employee entrance on the right side near the departure doors; I'd checked earlier to ensure that it was okay for me to park there and was assured that there would be no problem. So I unloaded my gear and locked my trailer to my bike: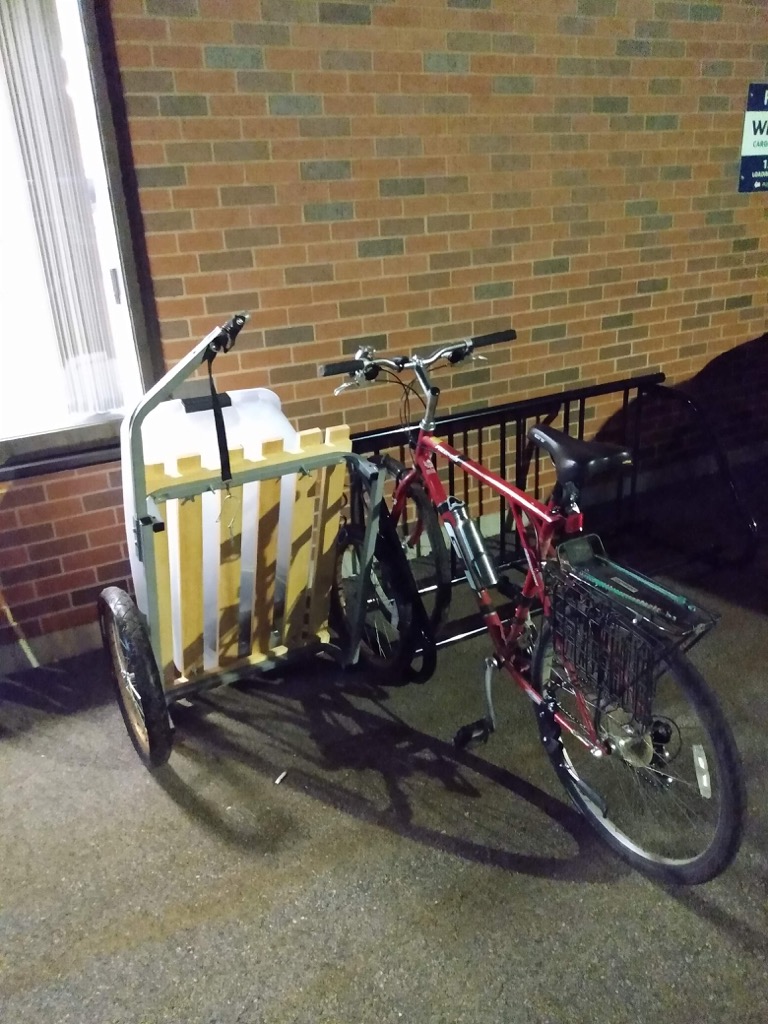 Given that the employee break room is right next door, and that it's an airport, I suspect this might be the most secure bicycle parking in Charlottetown.
Walking into the airport, the combination of the early hour and the strenuous opening exercises combined to place me in a rather pleasant stress-free haze that made the transit through security and the wait for boarding as anxiety-free as I've ever experienced.
I slept most of the flight to Montreal.
I'm away for a week, returning from Montreal next Sunday. My flight lands at 11:25 p.m., so my ride home will be equally inky. I just hope it's not raining.