Perhaps no institution was as important to my education in my twenties as Trent Radio, the campus-community radio station in Peterborough, Ontario.
My entrée to the station came via an ad in the October 7, 1985 issue of Arthur, the Trent University student newspaper: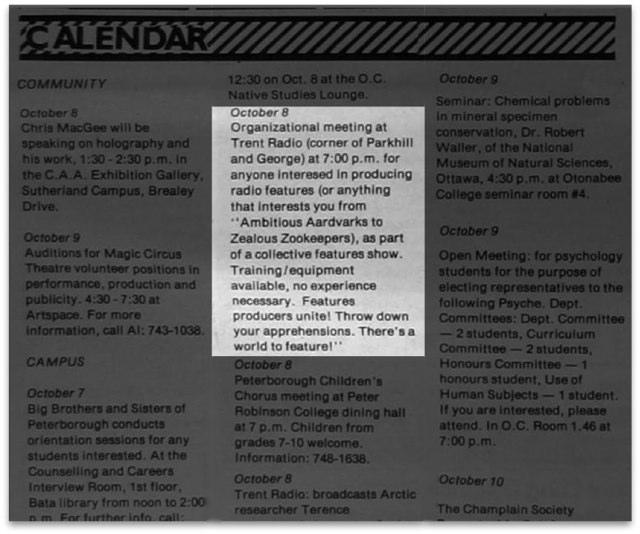 The meeting was well attended: among others there was Betsy Trumpener, Stephen Badhwar, Thomas Haig, and Jake Berkowitz. The product of that first meeting was a radio series we called "Nouspeak" and we were quick off the mark: in the very next issue of Arthur I had this update in the Letters section: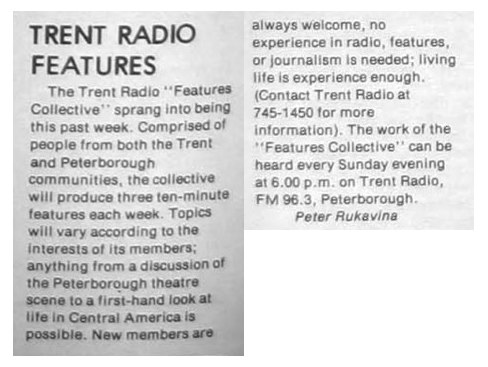 And by the November 11 issue of Arthur we were already running "best of" episodes:

My first piece aired on Thursday, November 21, 1985; titled "Phoning the Kremlin: Getting the Feel of a Global Village," it consisted entirely of my attempt to phone somebody at the Kremlin in Moscow, a montage of various conversations with international telephone operators playing over Supertramp's Fool's Overture:

While I can't make any claims to it having been great radio, it was an interesting experience, and I regret that there is no copy extant (my personal copy was stolen in a house break-in some years later).
I continued to be involved with Trent Radio for several years after that initial foray, producing music programs, an experimental unhosted call-in show called "Dead Air" (a tape loop ran over and over inviting callers to phone and "fill up the dead air"; as soon as they called, they went live to air with no intermediation), and a variety of other shows, both musical and spoken word. I worked as an "operator" (Trent Radio parlance for "the person who unlocks the doors and makes sure the producers show up), as the paid programme director. And I took on Trent Radio's "producer oriented radio" mantra – wherein the emphasis is on radio production, not radio consumption – as a personal one, something that stays with me to this day.
Over the 5 years I spent in and around Trent Radio in various capacities I made good friends, fell in and out of love several times, and learned much, much more than I ever learned in the single year I spent as a student actually enrolled at Trent. It's not an exaggeration to say that Trent Radio is where I grew up, and I owe the institution a great debt for that.
I was moved to write all this because today is the day that Trent Radio is celebrating Trent University's 50th birthday; starting at 17:00 Eastern Daylight Time, you can listen in to the Trent Radio web stream and hear programming from producers-past. Here's the broadcast schedule, liberated from Facebook:
Friday August 8th: 17:00 Barb Woolner; 18:00 Glen Caradus; 19:00 Paul Cleveland; 20:00 Atticus Bakowsky; 21:00 Bill Kimball; 22:00 Laurel Paluck; 23:00 Jack Smye; 23:30 Alex Karas.
Saturday August 9th: 00:00 Andrew Foogarasi; 01:00 James Kerr; 02:00 Sable Guttman; 03:00 Anthony Gulston; 04:00 Jess Grover; 05:00 Matt Jarvis; 06:00 Blair Sanderson; 07:00 Stephen Couchman; 08:00 Good

&

Country; 09:00 Jim Doran; 10:00 Steven May; 11:00 Rob Thompson; 12:00 Me Show; 13:00 Trent Radio Hangout LIVE w/Anthony Gulston

&

Philip Benmore; 18:00 "Arthur" Live; 21:00 Live from the Sadleir House Dining Hall.
Sunday August 10th: 02:00 "A" is for Aftermath w/Joe Lewis.
I recognize many of those names, and I'll be listening.