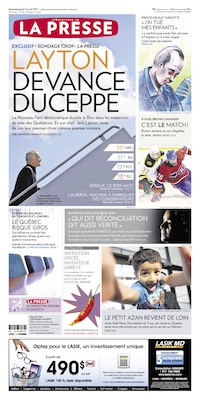 On the CBC At Issue panel on The National last night most of the time was taken up with discussion of a "CROP poll," to be reported in La Presse today, showing an "NDP surge." Host Peter Mansbridge introduced the topic to the panel like this:
There's one that we're hearing rumblings about tonight – this is a poll – and while we don't place a lot of faith in polls you can guarantee this is going to make big news tomorrow. A poll, a CROP poll, a very highly respected organization, that's going to suggest that the NDP, at least at the time the poll was done, were in first place – yes, you're hearing me right – first place in Quebec, ahead of the Bloc Quebecois.
And for the following seven minutes much of the discussion of the panel was about or in reaction to this poll.
If, in fact, this was an actual poll as we were led to believe by the CBC panel, this would indeed be a big deal; it wasn't until I returned to the topic this morning through an article in the Toronto Star, NDP jumps ahead of Bloc in Quebec: Poll, that I read, way down in the last paragraph:
The survey of 1,000 Quebecers online took place between April 13 and 20. Due to its non-random character, there is no margin of error.
This is echoed in La Presse in its article Le NPD prend la tête au Québec:
Ce sondage mené en ligne ne comporte pas de marge d'erreur compte tenu du caractère non probabiliste de l'échantillon.
In its reporting today the CBC has changed the language from "poll" to "online survey." For example, in Bloc changes tactics to deal with NDP surge they report:
An online survey done by CROP, which the company said cannot be assigned a margin of error because the methodology doesn't allow for random sampling, shook up the race in Quebec overnight Thursday, showing a surge for the NDP.
Note that although the language has changed, and the description of the methodology is closer to the lede, the headline is still a reference to a "surge" that exists only because of the "online survey."
None of the stories I've been able to find dive any deeper than that, and we're left not knowing whether the "online survey" was simply a web poll, liable to "poll box stuffing" by anyone who happened to come across it, or if it involved any sort of more statistically valid methodology.
What really bothers me about this issue, however, is that I've been impressed with the lack of coverage on The National – my primary source of election news and opinions – of polls for this federal election. Whether through policy or circumstance the CBC has devoted little or no coverage to the game of polling, and has instead concentrated on, dare I say, the ideas of the campaign. For this trend to be broken by giving substance to something that, on the surface, seems so potentially inaccurate is unfortunate and misleading.