There's a provincial general election here in Prince Edward Island on October 3 this fall, and over the past month here at Reinvented we've been ramping up the technology side of the Elections PEI operation as planning and preparation for the election is now in full swing.
In each of the Island's 27 electoral districts there are three advance polls dates – September 24, 26 and 30 if you want to mark your calendar now – and these are held in a single central location in each district. Because votes are cast and tallied on a poll-by-poll basis, with multiple polling divisions in each district, one of the challenges at these advance polls is to route electors arriving at the door to the proper table to vote for their particular polling division.
In New Brunswick, both for the advance polls and on election day, they use laptops loaded up with an address database for this task: poll workers enter a street number and name and an application running on the laptop returns the polling division. 
We used a similar system here in Prince Edward Island in the 2007 provincial generation election for the advance poll in Charlottetown – just a single laptop in a single advance poll – and it worked well, and after observing the New Brunswick election in September we started to develop a plan with Elections PEI to equip all 27 advance polls with laptops and look-up software.
It turns out to be surprisingly hard to source 30 laptops (one for every district, plus spares) for just a week. Purchasing inexpensive netbooks – in the neighbourhood of $300 each – would come to $9,000. And after election day you'd have $9,000 worth of obsolete laptops. Renting laptops was not that much less once you factor in minimum rental periods. And that's only the hardware: the cost to develop the database application, to train poll workers to use the hardware and software and to make sure technical support was available would have at least doubled that.
Once the cost and complexity of this plan began to emerge, we collectively took a deep breath and realized that we were trying to solve with complicated technology a problem that could more easily, cheaply and effectively be solved with, well, paper. Witness: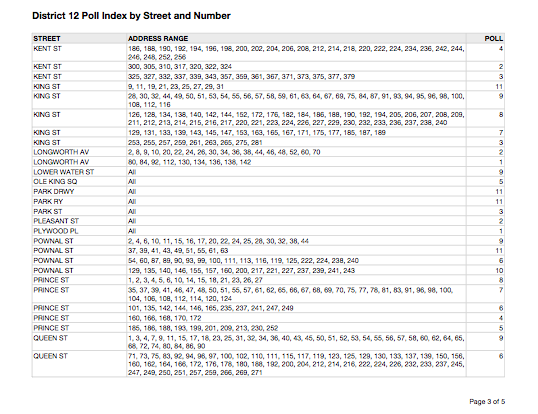 That's a single page of a simple 5-page index to District 12, a district with about 2,000 addresses and 3,100 electors. To find the right poll, the advance poll worker just asks the elector for their home address, scans down the alphabetical list of streets to find it, and then scans for the right number (we experimented with replacing address numbers with address ranges, but the complexity of poll geography meant that the result was more confusing than helpful).
Twenty-seven districts, a five or six page index for each district, and about an hour to create the report means that the entire "system" (if you can call it a "system") cost less than $100, requires a few minutes of "training" and is guaranteed not to crash.
A good day at the office.