Fortunately, for all their control, control, we must have control attitude, the CBC actually has an open attitude towards the copying their content:

The materials available via this CBC/SRC Website may be copied in whole or in part for private and/or non-commercial use, provided that copyright ownership is acknowledged. Under no circumstances may copies be sold without prior written permission from the CBC or the copyright owner concerned.
To enable more of this "copying in whole or in part," here's a tutorial on how you can, if you have a Mac, save CBC's streaming audio, and spread it around digitally.

First, you need to download a copy of Audio Hijack. And you should probably pay the $16US shareware fee, both because you'll only have 10 minutes use of the program otherwise, and because it's a very cool program, and the programmer deserves your support.

Second, you need a download a copy of the RealOne Player. You don't need the fancy-pants version you have to pay for: look for the links to the "Free RealOne Player" on their website and download and install that.

Audio Hijack is a program that does with audio what Activewords does with keystrokes: it grabs the audio before it gets dealt with otherwise by the operating system, and lets you EQ it, filter it, and/or record it.

Once you've downloaded and installed Audio Hijack, start it up, and select File \| New Preset from the menu.
Enter something like "CBC RealAudio" for the Preset Name, then click on Select in the Application section, and find the RealOne Player in your Applications folder and click Open.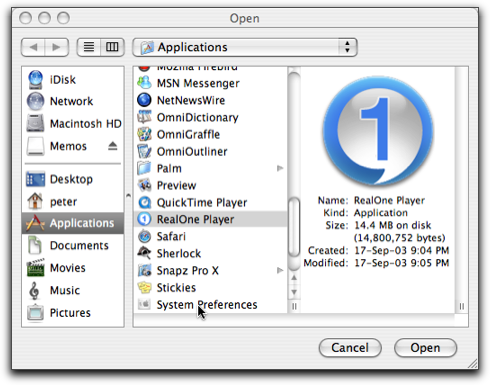 Next, check the "Open URL/File/AppleScript" box, and enter http://pei.cbc.ca/charlottetown.ram in the box below. You can actually enter your local CBC's streaming audio URL here if you like; using this one will get you audio from Charlottetown. To find you local CBC's audio stream URL, just hold down Control while clicking on the "listen live" link on the relevant CBC website: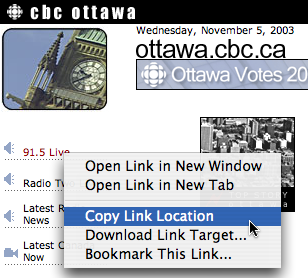 …and select "Copy Link Location". This will copy the URL to your clipboard, and you can then, using Command + V, copy it into Audio Hijack.

At this point, your Preset window will look like this: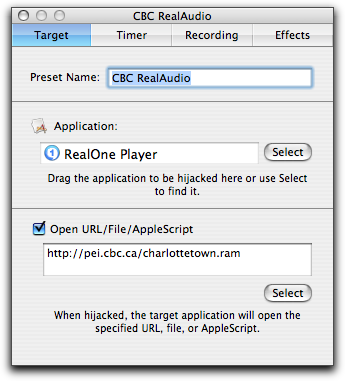 Next, click on the Recording tab, and under "When Finished Recording," select "Encode to MP3 with iTunes." The tab will now look like this: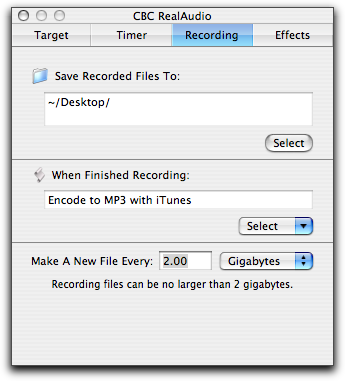 You can now close this window, and you should see the following in your main Audio Hijack window: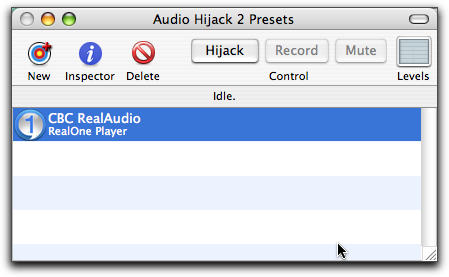 You're now set up and ready to record the CBC's audio stream at your leisure. To start listening to the CBC (you won't be recording yet), just select the Preset you just created and click on Hijack. This will start up the RealOne Player automatically, tune it to the CBC, and start playing. You'll see "CBC RealAudio: Active" in the status bar, along with a counter of the number of seconds the CBC has been playing: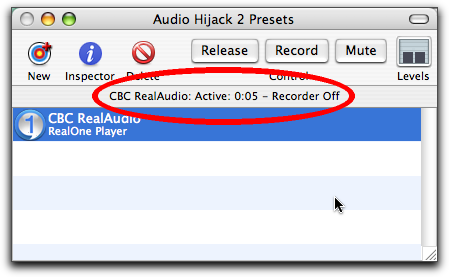 Once you're ready to record, just click on the Record button, and Audio Hijack will start recording the audio to a file on your hard disk. When you want to stop recording, just click on the Record button again. At this point, Audio Hijack will automatically start up iTunes, convert your recording into an MP3 file, and leave it ready for you to listen to, save, email, or post to a website: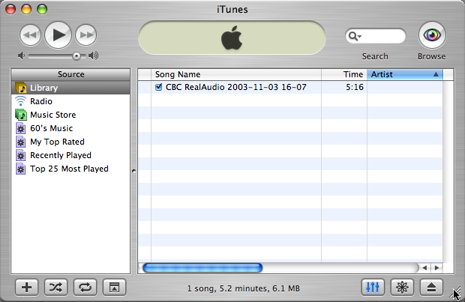 Remember that the CBC allows copying "provided that copyright ownership is acknowledged," so if you distribute the files you record, you should ensure that the CBC is credited as the source.