The common thread running through a lot of my work recently is this: if we become more aware of the metrics related to our everyday life we gain a deeper understanding of our behaviour and are more likely, and more able, to affect positive change.
Whether this so-called "personal telemetry" concerns bandwidth or energy, or physical fitness, being directly or peripherally aware of our consumption and action patterns is a useful tool for understanding more about ourselves.
In 2010 the Province of Prince Edward Island spent $3,655 per capita on operating health expenses. Health spending consumes 30% of the provincial budget every year, over $444 million in last year; it's the largest slice of the provincial budget by far.
So you'd think it might be a good idea, personal telemetry-wise, if we all were more conscious of our personal impact on this budget item. To that end, back in May I sent an email to Health PEI, the provincial body here on Prince Edward Island that manages the health system:
I'm interested in obtaining a digital record of the transactions under what I would call, for lack of knowledge of the terminology, my "health care account" — in other words, all of the payments to doctors, specialists, hospitals, labs, etc. paid out by Health PEI attached to my Health Card account for as long as records are available.
I had no idea what I've been costing the health system; if you told me it was $10,000 over 18 years I'd be as likely to believe you as if you told me it was $2 million. I figured if I had a greater sense of what ever visit to the doctor was costing the system, I'd factor this into my decisions about, say, whether that head cold really warranted a trip to the doctor or not.
A few days later came a reply to my query:
Our Information Co-ordinator has indicated to me that you should submit a FOIPP (Freedom of Information and Protection of Privacy) request. Attached is the Access to Information form which you can complete and submit to our co-ordinator.
And so I that same day I sent in my FOIPP request: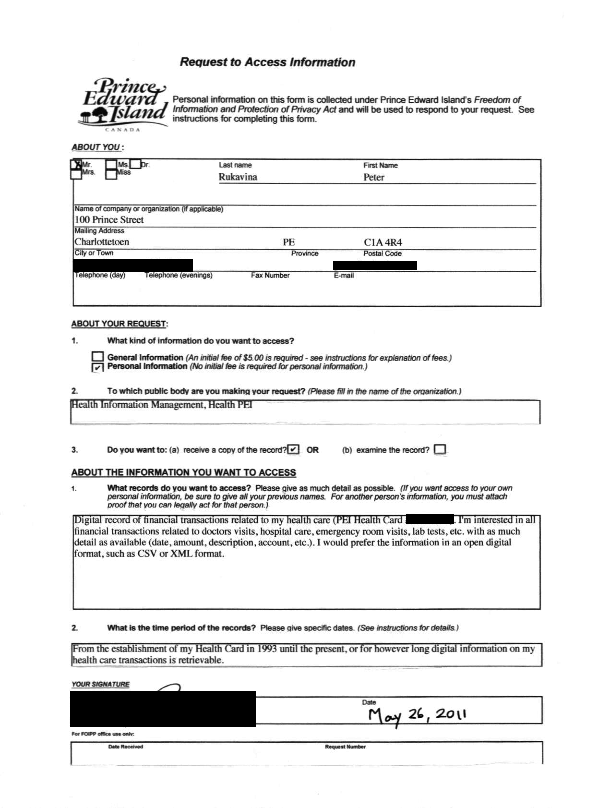 What I asked for was:
Digital record of financial transactions related to my health care (PEI Health Card # XXXXXX). I'm interested in all financial transactions related to doctors visits, hospital care, emergency room visits, lab tests, etc. with as much detail as available (date, amount, description, account, etc.). I would prefer the information in an open digital format, such as CSV or XML format.
I received a quick response to my request, saying, in part:
We will provide the information available to you under the Act as quickly as possible. Although the Act allows a maximum of 30 days to respond, we will reply sooner than June 27, 2011, if possible.
A month to the day after I sent my request I received the formal reply to my request: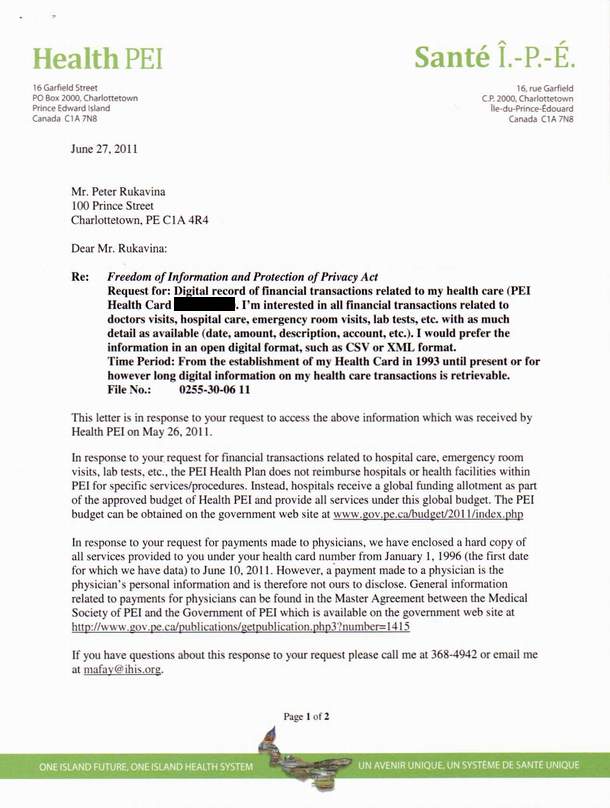 The response included a two page print-out (ignoring my request for digital information) that listed my "resident history" of health transactions from January 1, 1996 to June 20, 2011, like this:

There are 58 transactions in total, covering visits to my family doctors, to walk-in clinics and to the Queen Elizabeth Hospital. There are several pieces of information that I know to be inaccurate – procedures that happened at Prince County Hospital in Summerside, for example, that are listed as having happened at the Queen Elizabeth Hospital in Charlottetown; or an item described as "abnormal weight loss" that was actually my annual physical (that involved no weight loss at all) – but otherwise it seems like a pretty complete review of my interactions with the health system.
But no financial information was included at all, which defeats the purpose of my request.
This was explained in two parts; regarding hospital visits:
In response to your request for financial transactions related to hospital care, emergency room visits, lab tests, etc., the PEI Health Plan does not reimburse hospitals or health facilities within PEI for specific services/procedures. Instead, hospitals receive a global funding allotment as part of the approved budget of Health PEI and provide all services under this global budget. The PEI budget can be obtained on the government web site at www.gov.pe.ca/budget/2011/index.php 
Although it's an unsatisfying response, if they don't track spending on a patient-by-patient basis there's nothing that they have that they're not providing me, so nothing more that I can request.
The response regarding payments to physicians, however, revealed information that they do have but they're specifically denying me access to (emphasis mine):
In response to your request for payments made to physicians, we have enclosed a hard copy of all services provided to you under your health card number from January I. 1996 (the first date for which we have data) to June 10, 2011. However, a payment made to a physician is the physician's personal information and is therefore not ours to disclose. General information related to payments for physicians can be found in the Master Agreement between the Medical Society of PEI and the Government of PEI which is available on the government web site at http://www.gov.pe.ca/publications/getpublication.php3?number=1415 
The "Master Agreement" referenced in this explanation is a 205 page document containing a 149 page Tariff of Fees. The "description" column in the list of transactions I was provided with doesn't relate directly to the tariff – for example, I had my gallbladder out in April of 2003 and this is listed on the sheet that I was provided as four items:

There are two "Cholelithiasis Nos" items, a "Oth Spec Prob Influenc Health" item and a "Day Surgery — Hospital Payment" item. None of these are tariff descriptions, and so there's no way for me to determine what the cost to the health system of each was.
I dispute the assertion that "a payment made to a physician is the physician's personal information and is therefore not ours to disclose." The Freedom of Information and Protection of Privacy Act, section 15, paragraph 2(f) reads:
A disclosure of personal information is not an unreasonable invasion of a third party's personal privacy if the disclosure reveals financial and other details of a contract to supply goods or services to a public body.
That description seems, to my eyes, to map directly to this situation.  I have 65 days from the receipt of Health PEI's response to as the Information and Privacy Commissioner to review the response, and I'm drafting that letter now. I'll report back when they reply.