One might wonder how many times it's possible for Nokia to recast its maps offering: in recent years we've seen Nokia Maps become Ovi Maps become Nokia Maps again. To say nothing of the myriad map-related side-projects, some of which have gone public and others not.
To make matters more confusing for we Nokia Lumia phone owners, there are 4 different mapping applications from Nokia available for the device: Nokia Maps, Nokia Drive (turn-by-turn navigation), Nokia Transit (transit directions, but only for 100 cities), and an app called simply Maps (which comes from Microsoft).
None of these apps share POI or favourites databases, meaning, for example, that if I look for a place to eat near the office in Maps I see China Garden, Globe and Cora's, whereas in Nokia Maps I'm given Lot 30, the Claddagh House and Leonhard's. If I ask Maps to route me to "100 Prince Street" it sends me 13 hours and 850 km to "Prince Street, NY" whereas Nokia Maps sends me 317 m down Richmond Street to my house, and Nokia Drive sends me 520 m up and along Grafton Street to Prince Street and home.
Today, at least in theory, it all becomes Here:
This is why today we are introducing HERE, the world's first location cloud that delivers a location platform, location content and location apps across any screen and any operating system.
I'm not exactly sure what that means, but in practice it seems to mean little more than adding additional confusion to an already confusing mix.
For example, here's my Here profile. You'll find a "favourite" there for the Reinventorium. Confusingly, if you click on that favourite it will expand to show you the location of my office in the middle of Charlottetown Harbour (the location is correctly attached to the favourite as 111 Queen Street; it's the map rendering that's broken):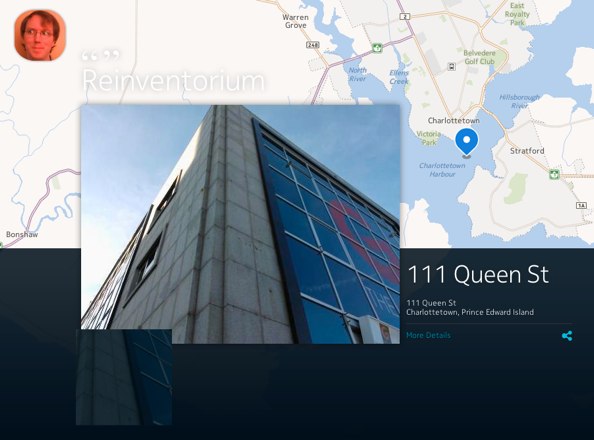 Click on the "More Details" link and suddenly you're transported out of Here and back into Nokia Maps. And not actually shown "More Details" at all, but rather a map with nothing highlighted at all. Clicking on the "share" icon pops up a dialog box with a URL for the favourite that leads to a page containing only "Oops, something went wrong. Please come back later."
Otherwise in Here you find essentially the same thing you found yesterday in Nokia Maps. Compare: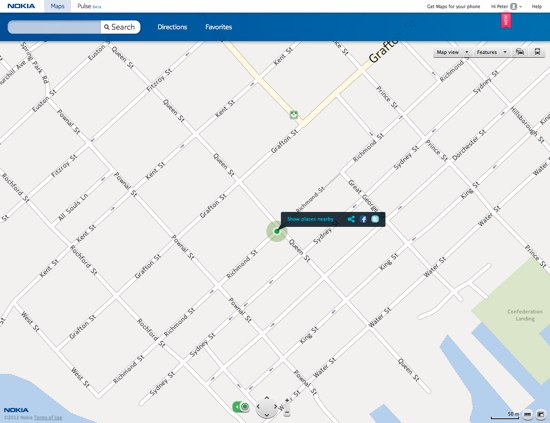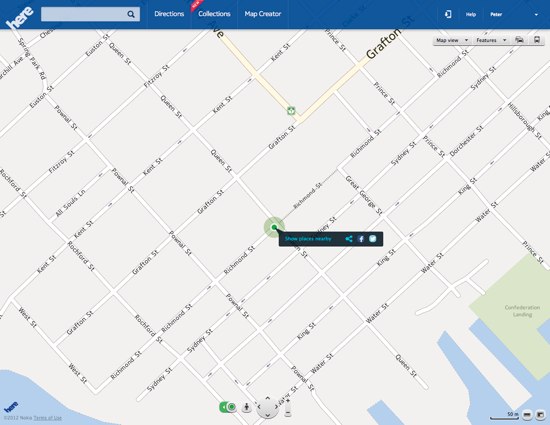 There's been some evolution of the language between Nokia Maps and Here: what once were "Favourites" are now "Collections". To Nokia's credit, whatever these are called, they follow me from product to product: my thousands of Plazes are still there; although they seem to have stopped working in Nokia Maps, they're present in Here: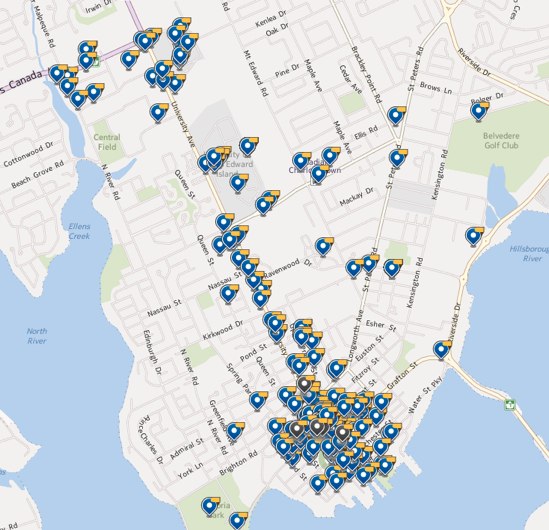 Otherwise, as far as I can tell, Here is Nokia Maps with a new skin. There's no trace of "the world's first location cloud that delivers a location platform, location content and location apps" and, other than the ability to add a (non-working) "profile" page, and a "Map Creator" tab that doesn't work in Canada, there's no change in functionality.
All of this is frustrating for we on the using end of Nokia's mapping applications because Nokia's ace in the hole, the thing that holds it above other mobile-focused companies, is supposed to be its maps. This is why, we were told, Nokia acquired Gate5 and Dopplr and Plazes and Navteq. We've all been waiting for the day when this is going to pay off, when Nokia releases a single end-to-end mapping solution that does navigation plus social location plus POI management plus local mapping. Unfortunately, at least on first blush, Here ain't it.