I've been tying knots the wrong way, I have learned.
First, I've been knotting my shoes the wrong way, as I learned from this TED video. Six months ago I switched to the new system espoused there, and went from having my shoelaces becoming undone two or three times a day to having my shoelaces never becoming undone. I took about 2 weeks until my muscle memory learned the new method, but it's now second nature.
Second, I'd been knotting my scarf the wrong way. Truth be told, I wasn't knotting my scarf at all, simply draping it around my neck and holding it on with my coat. But then, two days ago, I carefully watched as my friend Shelley did what I've come to learn is called the "Parisian Knot," a simple technique that is well-illustrated here: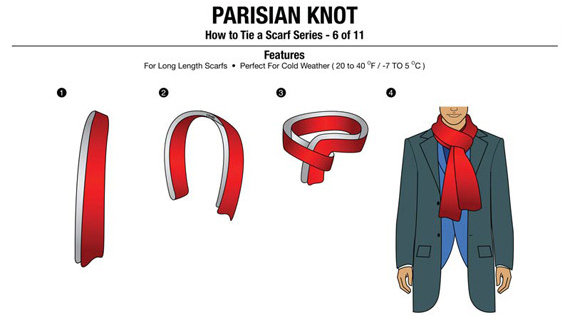 I've only been Parisian for 12 hours now, but the change is palpable: I've moved from "vaguely warmed neck" to "warmly swaddled neck.