If you watch this video by Tod Maffin about the CBC's new "integrated newsroom" in Vancouver you'll get a good overview of the corporation's new view of "content" as something akin to generic slop that you ladle out of the universe, pass through a magic content-massaging machine, and then distribute on multiple "platforms."  It looks something like this:

In this model radio, television and the web are reduced to lowly status as "content delivery vehicles" and the central notion is that content is content, no matter the "platform" and the old medium-specific model of the CBC is no longer relevant.
Here's what I think the content model for the CBC should look like: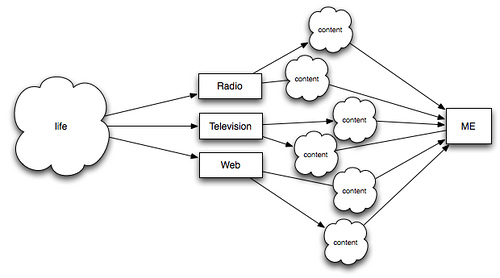 Central to my model is the notion that there is no such thing as content before you take real life and mix it with the unique characteristics of a particular medium.  The reporting process, in other words, and most importantly the medium-specific reporting process, is what conjures this thing called "content" into being.
The simple-minded notions of radio as "television without pictures" and the web as a "newspaper without printing presses" ignores the notion that, dare I say it, the medium is the message and that the storytelling capabilities of each medium each have unique qualities.
We've already seen the foibles of CBC's new cross-platform-synergy here in Prince Edward Island where on some days we end up hearing two or three re-purposed television news stories from the previous night's Compass replayed on Island Morning verbatim but for the "back to you Bruce" handover at the end.
When, as happened earlier this week, the television news story happens to contain narration that refers to things that you need to be able to see — this week's example saw reporter Sally Pitt referring to "the man in the black shirt" — it's simply a glaring demonstration of a larger underlying problem: radio isn't just "television without pictures" and demands the care, experience and skills of a radio journalist to be used to its full potential.  Running television news stories on the radio makes no more sense than running radio news stories on television.
I'm afraid that, as CBC Prince Edward Island journalists are called to do more with less — operating a 90 minute newscast without a third-larger complement of reporters, for example — we're only going to see more of this.  And that's too bad, especially for CBC Radio.  Telling stories on the radio is one of the things the CBC has always excelled at, and the corporation has produced some of the world's finest radio journalists.  
If radio is to be repositioned by the CBC as "television lite" and the web is to be simply another amorphous bucket for medium-neutral content, I'm afraid what we're going to end up with is a gelatinous mass of poorly reported "content" that is capable of truly informing absolutely no one.