Somehow "boutique hotel" and "Moncton" don't seem a natural match. But over the weekend we spent a night at the brand new Hotel St. James (so brand new it doesn't have a website yet), and I can attest to its full-on boutiqueness.
The hotel is located above (and takes its name from) the St. James Gate bar in downtown Moncton (a cousin, it seems, of the bar of the same name here in Charlottetown). It doesn't seem to suffer from its bar-proximity noise-wise; there wasn't a hint of raucous rock and roll when we lay our heads down to sleep around 11:00 p.m.
Our room was full of the the defining characteristics of a "boutique" hotel: hardwood floors, plasma widescreen television with all the channels; DVD/CD player; super-comfortable bed; low-noise air conditioning system with remote control. Perhaps the boutiquiest feature of the place is the double-wide see-through shower: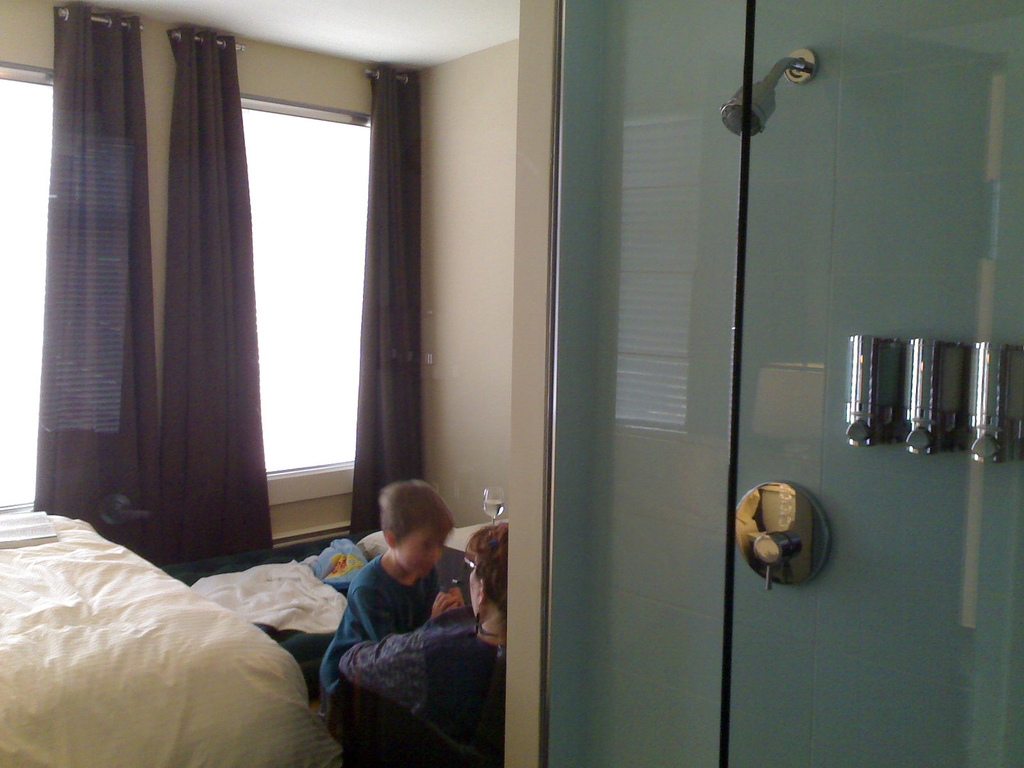 The shower's back wall, in other words, looks right out onto the room, affording those in the room the full view of those performing their ablutions, and vice versa. Indeed all of the washroom is visible, meaning that those who treat the room as a "private space" may be somewhat uncomfortable (it did take some getting used to).
Rooms with a queen bed are $169/night; a king bed in a larger room is $179/night. They don't have rooms with more than one bed, meaning that if you're a three-person family you've got to improvise (Oliver slept on a blow-up mattress we bought from home). There are only 10 rooms in the hotel, meaning that you get all the personal service you need from the staff (who are very, very friendly and helpful).
Moncton is a city chocked-full of hotels, and especially in the off-season this means you can almost always get a room for under $100, even at the upscale Delta Beausejour. But what you'll often end up with is a well-worn room with a polyester bedspread and cigarette burns on the carpet. In situations where you're willing to splurge, the Hotel St. James is a very nice alternative; that it makes Moncton a pleasant place to visit is something of a minor miracle.