The first unit in Oliver's grade 7 science curriculum is "Life Science: Interactions within Ecosystems," summarized, in part, like this:
Ecosystems such as forests, croplands, rivers, lakes, estuaries, and oceans are inhabited by different organisms that are well adapted to their environment. Each ecosystem is biologically and physically unique, yet all ecosystems function as a systems model. Energy from the sun is fixed by plants and then transferred to a variety of consumers and decomposers. The ecosystems themselves are not independent of one another as energy, biotic and abiotic factors can move from one ecosystem to another to involve even larger relationships.
We have, as a result, had ecosystems on the brain in our household for the last couple of weeks, and Oliver and I, on our morning walks to school and our evening walks around town, have been talking about ecosystems and interdependence and sustainability.
Now the city is an ecosystem, and our household is an ecosystem, and the school is an ecosystem, but there's nothing like a walk in the woods to get hit over the head with "interdependence," so after our Saturday visit to the Charlottetown Farmer's Market we headed out to the Winter River to do just that.
I have been helping Bryson Guptill from Island Trails with some mapping work in preparation for Uncover the Island, a big project the organization is undertaking next year, and this work has exposed me to the work of the organization through its website. The Confederation Trail I knew all about; the work of Island Trails to establish and maintain smaller woodland trails across the Island was new to me, and the extensive trail network along the Winter River near Suffolk was something I knew nothing about.
Bryson was one of the participants in the OpenStreetMap Mapping Party I organized back in 2009 and he took to open mapping like a duck to water, using OpenStreetMap to transform the Island Trails website (and OpenStreetMap itself) into a considerably more useful resource by working to include all of the Island's trails on the OpenStreetMap basemap.
As a result of this work, I was able to call up a detailed map of the Winter River trail system and a description of the various routes on my phone's web browser once we got to the trail head, and we opted, after reading the trail descriptions, for the shortest trail, one maintained by the Queens County Wildlife Federation, described like this:
This is a short trail, (about an hour walk), through a mature pine and hardwood stand. Three short loops converge at the Winter River, which at this point will satisfy anyone's conception of a "babbling brook".
"Babbling brook" sounded very ecosystemy. And so off we headed: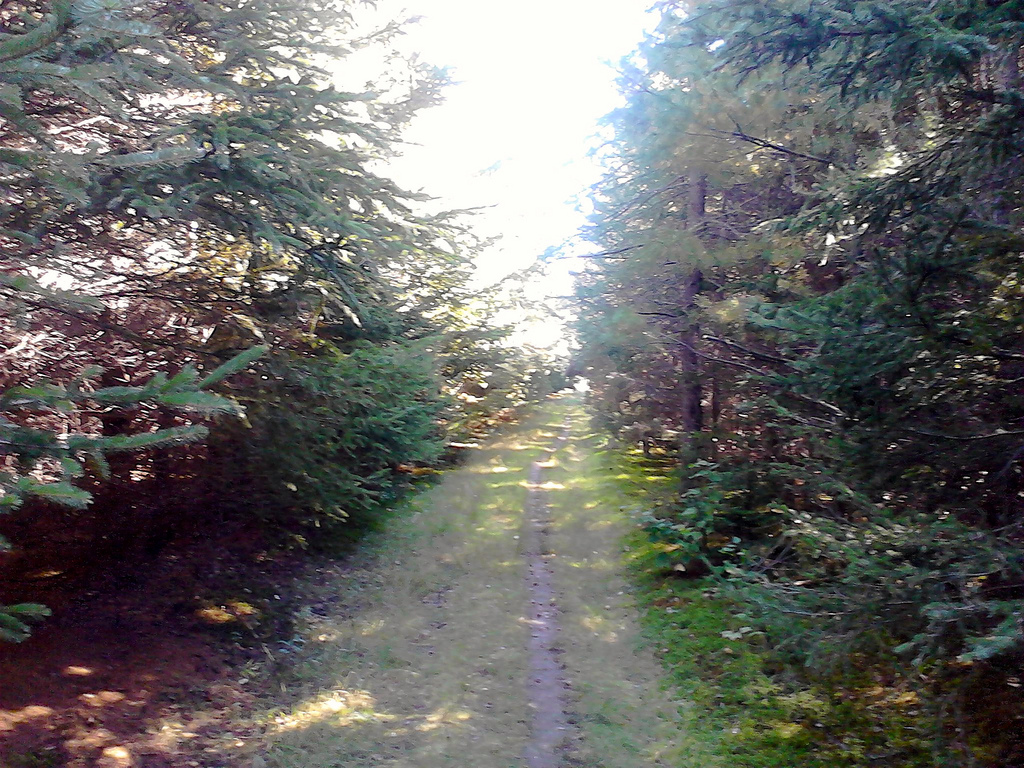 After a slow, easy start, the trails enters the woods and heads downhill toward the river; you need sensible shoes for this part of the walk, and you need to watch out for tree roots, but it's by no means arduous. After about 15 minutes you come to the riverbank and, true to its description, there is much babbling: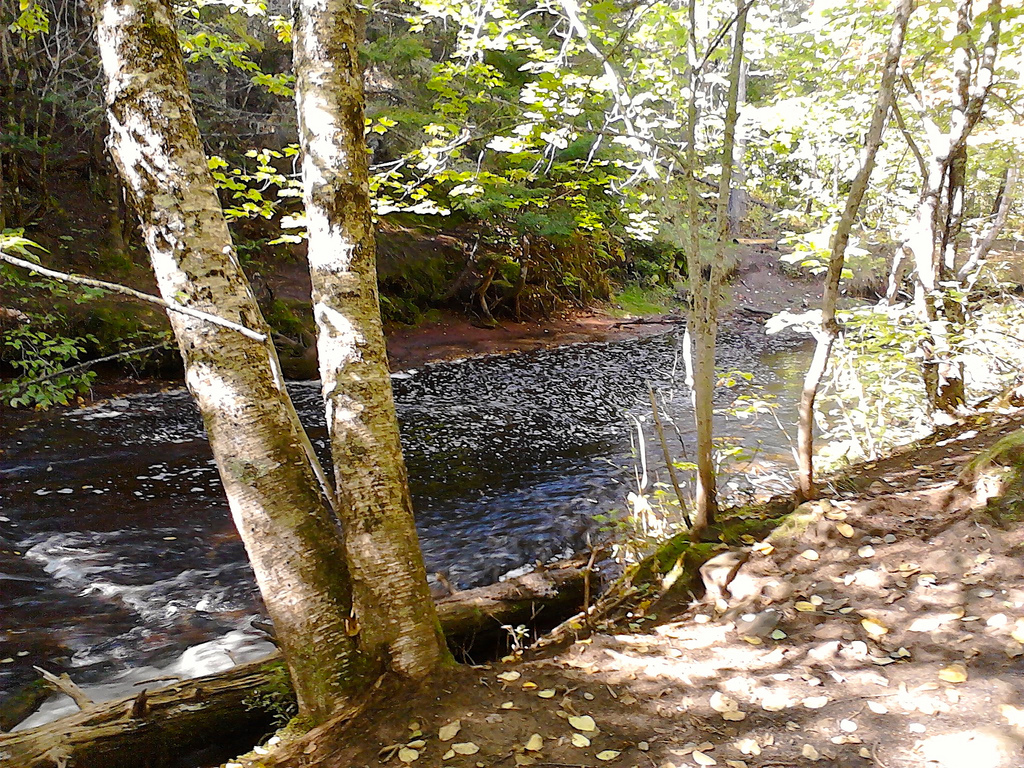 As planned, the walk provided much opportunity to talk about ecosystems. Trees fall, decay, provide food for moss and insects, homes for small animals and, ultimately, turn back into the earth that feeds new trees. And so on. Even more powerfully, though, the Winter River watershed is the source of all of Charlottetown's drinking water and so in addition to supporting plant an animal life along the walk, the water also supports us.
Now it was my plan, going in, to take a short jaunt down to the river and back. An hour or so, I thought, with a route something like this: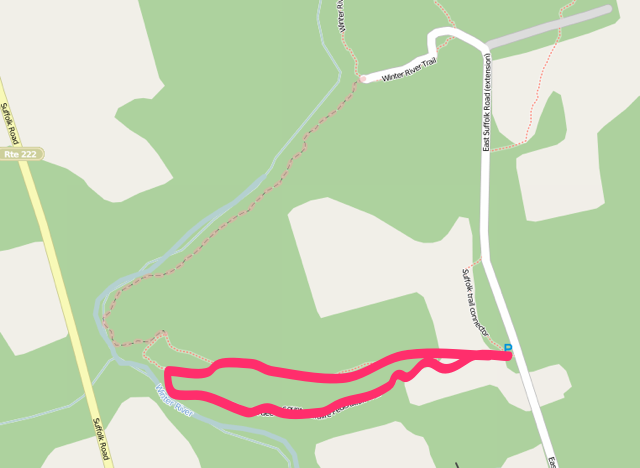 Other than the information signs at the trail head, however, the trail isn't signed at all, and the GPS in my phone wasn't working well enough to pointpoint our location as we walked, so that actual route we ended up taking was something like this: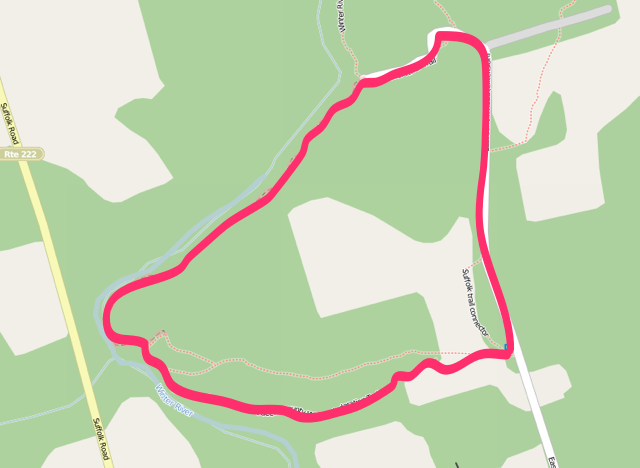 In other words, we missed the turn when it looped back toward the trail head and kept walking along the river until it met up with the end of the East Suffolk Road.
Fortunately the trail along this section was obvious and in relatively good shape so, beyond a thin veneer of being lost, it was a happy diversion, and one that allow us to construct our own bridge from felled logs when we came to a small tributary of the river that offered no other way to cross.
It also allowed us to talk more about threats to ecosystem health when, at the end of the East Suffolk Road, we came across an "excavation pit":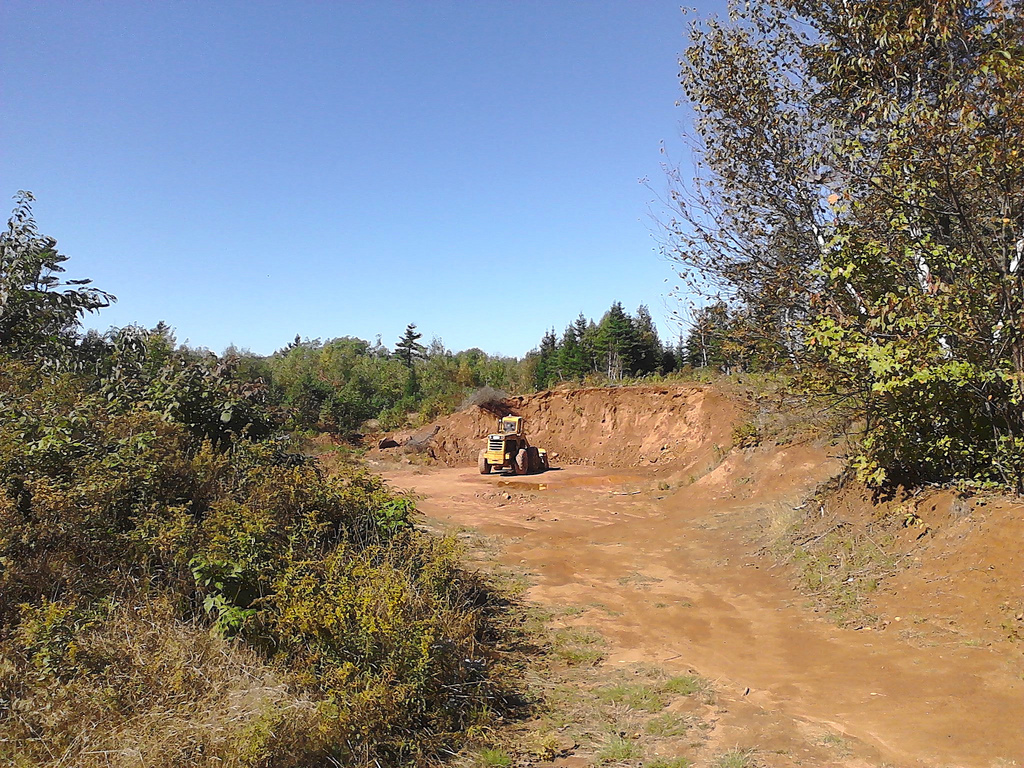 The walk ended up taking about two and a half hours, but we enjoyed it nonetheless. Much was discussed about ecosystems, and I think Oliver emerged with an innate understanding of interdependence of biological systems.
Going back to read more of the grade 7 science curriculum, filled with outcome statements like "describe interactions between biotic and abiotic factors in an ecosystem" and "explain how biological classification takes into account the diversity of life on Earth," it occurs to me that the curriculum has a glaring hole it it: what we really need is for our children to understand ecosystems in their guts. I'm pretty sure you can't do this justice when confined to a classroom, no matter how much time you spend on describing "how energy is supplied to, and how it flows through, a food web."
Walk along the banks of the Winter River: "if you pee in this river, eventually you'll be drinking little bits of pee when you brush your teeth at home." Ecosystems understood.
The Winter River trail system is an easy 25 minute drive from Charlottetown: drive out the St. Peters Road and Rte. 2 toward Mount Stewart. Drive past the Rte. 25 to York and take a left on Rte. 229 toward Suffolk. Just before the road crosses the Winter River, turn right on the East Suffolk Road and at the sharp right to the Millcove Road keep driving straight. The trail head is on your left just as the paved road turns to clay.
You can also cycle or walk to the trail head on the Confederation Trail: take the trail out of town and head east at Royalty Junction, over the Union Road, through York to Rte. 229; turn left onto Rte. 229 and proceed as above. Google Maps clocks this as a 23 km, 75 minute cycle ride.
There's parking for 3 or 4 cars in the lot and a map that shows the Island Trails map is posted in the parking lot (the route we walked is missing from this map, but you can see it on the Island Trails website). Enjoy.