It's 1:10 a.m. I want to know what my residential long distance rate is. My provider of long distances services is Aliant (formerly known as Island Tel). So, logically, I go to www.aliant.com to look for the answer.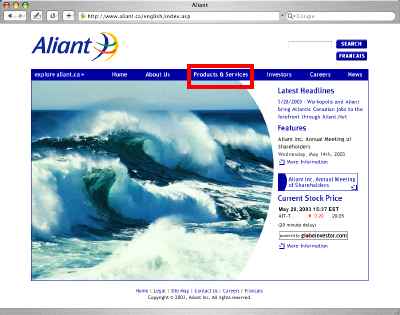 I click on Products & Services on their main home page. So far so good.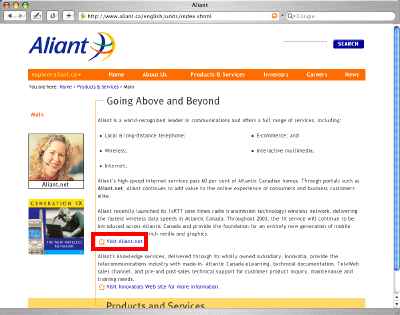 I see the words "Local & long-distance telephone" on the next page. But, oops, that's not a hyperlink. I scan down and find " Visit Aliant.net" and click on that.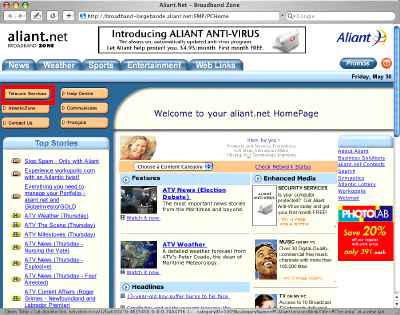 It's not all that easy to find, but hidden up in the top-left corner of the next page is a button labelled "Telecom Services." I click on that.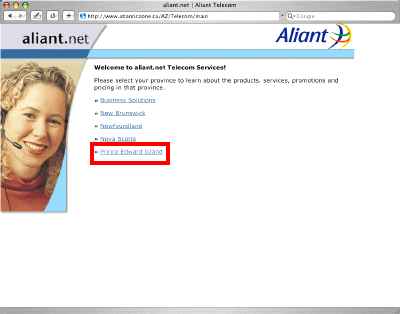 Now I'm at "Aliant.net Telecom Services" and I have to select my province. I click on "Prince Edward Island."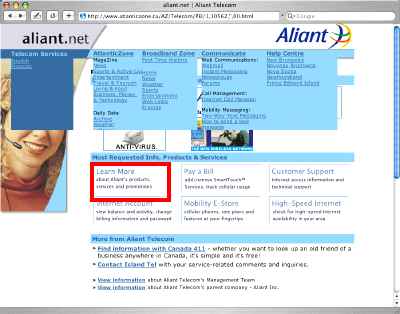 This next page is weird — all the text and images at the top of the page is covered by big blue boxes filled with what look like menu items. Thinking this might be a problem with my beta Safari browser, I load up the page in Mozilla, but the page looks exactly the same. I try Internet Explorer, but the page won't load at all. I finally decide to try clicking on "Learn more about Aliant's products, services and promotions" (oddly, that's very similar to the link I clicked on 5 pages ago called Products & Services; no matter).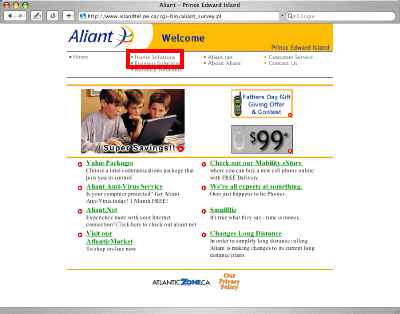 Old brands die hard: although it has the Aliant look and feel, the next page is actually on the old Island Tel webserver, and has an islandtel.pe.ca web address. I click on "Home Solutions" (no more products or services — I'm on to "Solutions" now!)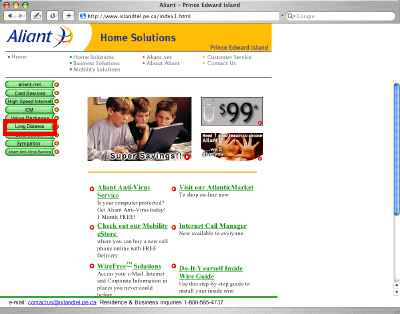 Over on the left-hand side of the next page (in the look and feel of the old Island Tel website, no less), I click on "Long Distance."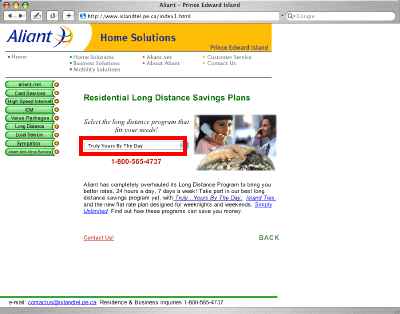 On the next page, titled "Residential Long Distance Savings Plans", I figure out that I should probably select "Truly…Yours By The Day" (which, if you ask me, sounds like some sort of escort service, but no matter).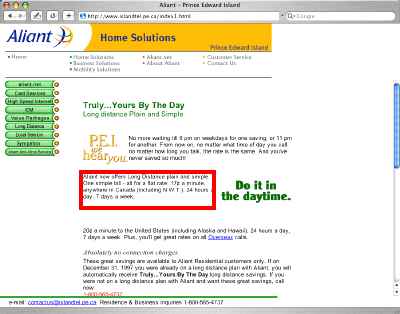 Hey, hey — I found what I was looking for! Here's what it says on this, the ninth page I've visited:

Aliant now offers Long Distance plain and simple. One simple bill — all for a flat rate: 17¢ a minute, anywhere in Canada (including N.W.T.), 24 hours a day, 7 days a week.
Just for the record, my journey took me through nine pages on six webservers:

aliant.com
aliant.ca
aliant.net
broadband-largebande.aliant.net
www.atlanticzone.ca
www.islandtel.pe.ca
I experienced five different "look and feels" on this journey, and used eight different navigational metaphors.

Truly. Here. For You. Somewhere.