Every summer I have the distinct (if somewhat disconcerting) pleasure of having regular readers of this weblog "from away" showing up here at the office to say hello. This morning, just as I was returning from my Breakfast at Barristas, I ran into Valerie Bang-Jensen coming out of the front door of the office with her daughter. You may recall that Valerie is the official grammarian of the weblog; she's also got Copenhagen ties and lives in Vermont, two things that always raise someone's stature in my world.
In addition to learning how to prounounce Valerie's last name, I'm also the happy recipient, on Oliver's behalf, of some wonderful postcards: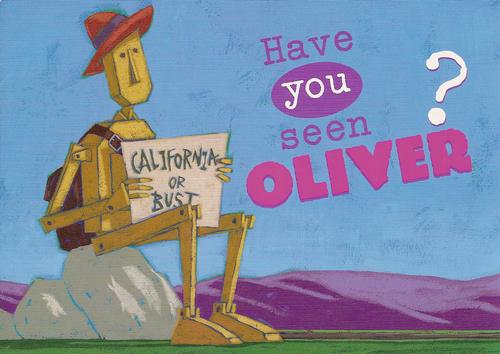 The postcard is an advert for the book The Journey of Oliver K. Woodman, a book the School Library Journal calls "A fresh, unusual tale."
Who will show up next?