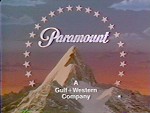 At the beginning and end of any Paramount Pictures film from 1966 to 1989 you see the image here, with the text Paramount — A Gulf + Western Company. Indeed Andy Warhol imortalized the image in his work Paramount.

But what was Gulf + Western?

The Encyclopedia Britannica tells us the company was a corporation that was founded in 1958 by Charles Bluhdorn and became one of the most highly diversified conglomerates in the United States. Gulf + Western took control of the Paramount Pictures Corporation in 1966. Gulf + Western changed its name to Paramount Communications Inc. in 1989 and was acquired by the media conglomerate Viacom Inc. in 1994.

Amazingly, there seems to be almost no memory left of Charles Bluhdorn nor Gulf + Western. Do a Google search for Charles Bluhdorn and you get only 87 hits (Henry Ford returns 235,000).

Perhaps we are too embarassed to remember. In Michael Eisner's autobiography Work in Progress we learn:

…Eisner's boss was the irrepressible Charles Bluhdorn, the chief executive of Gulf and Western. During one afternoon of hot tub schmooze at Bluhdorn's home in the Dominican Republic, Bluhdorn proposed a film "in which Sitting Bull meets Hitler. We ought to get Dustin Hoffman involved." Then, Eisner reports, "he suggested a 'Bad News Bears' sequel set in Cuba, in which Castro hits the winning home run." Ever the diplomat, Eisner made but one suggestion: the Americans ought to win.
In the few web pages where Bludhorn is mentioned, he is described with terms like manic and autocratic, the most rapacious and ruthless of conglomerateurs and a coarse boob with funny accent. There are no biographies of Charles Bluhdorn. Business case studies don't seem to mention Gulf + Western. They have been erased from our collective memory.

From this page we learn the details of his death: Charles Bluhdorn… died of a heart attack on a corporate jet flying from the Dominican Republic to New York in February 1983…. Among those who attended the private funeral services at St. Mary's Church was former Secretary of State Henry Kissinger.

Think of Charles Bluhdorn every time you watch Heaven Can Wait or Chinatown or The Godfather and see Gulf + Western on the screen.