Part of the reason I don't subscribe to The Guardian, our local newspaper here in Charlottetown, is because I just can't abide that much newsprint piling up around the house. And the confusion of paper carriers and collecting weekly and all that is just to dizzying to integrate into my daily life.
While I'm not one to jump on the "e-paper" bandwagon, and I find the process of reading stuff on the screen entirely dissatisfying, I'm somewhat intrigued by the digital version of The Guardian released today: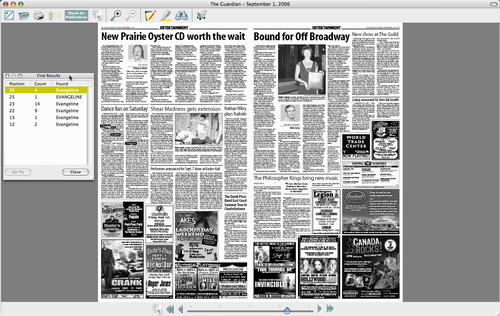 To use the product you have to download and install an abysmal proprietary reader application from Zinio (the same folks that bring you Penthouse and Playboy online!), an application that runs so slowly on my relatively modern Mac as to be almost unusable — page flips take about 5 seconds, and searches take about 30 seconds.
And of course because they're locking all the content inside DRMed proprietary files, you can't really doing anything with it that's programatically interesting.
Nonetheless, it might be a handy enough tool to subscribe to: there are only about 3 pages in the paper that are useful and interesting, but they're an important three pages, necessary for proper execution of life of the Island. I'll stick with the free trial for two weeks, and see how it takes.