Jane Ledwell presented an engaging talk, titled I Saw Your Name in the Paper, at the Confederation Centre Public Library earlier this week. She spoke about gender representation in the pages of Charlottetown Guardian, the result of her analysis of news stories in 51 issues of the paper this summer. You can listen to an interview with Jane on CBC's Mainstreet:
In the visuals for her presentation Jane used Wordles quite effectively (me and Wordles go way back), and so, by way of tipping my hat, here is a Wordle of the words in the 10 comments to the Guardian's own story about Jane's project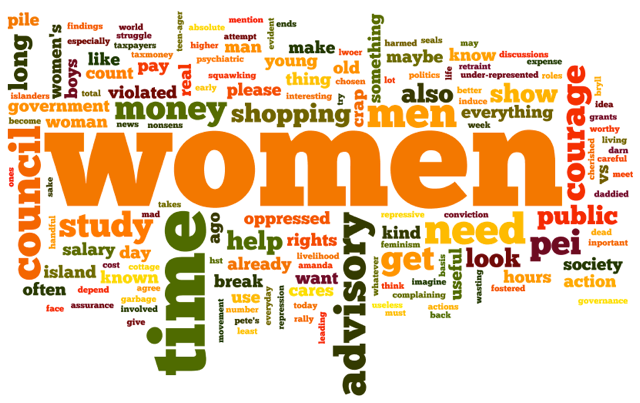 As regular readers of the Guardian's website will know, the comments there — all anonymous — are something read at considerable risk to one's sense of happiness and community; in this case they ran the gamut from "what a pile of crap study" and "Interesting that we let our tax money … be used for this kind of garbage" to "This seals my long held conviction that the Advisory Council has outlived their usefulness and long time ago."
There are alas, at this reading, no "thanks for your insights into media representations of women" or "it's high time we looked harder at the barriers to gender equality in Island society." So let those be my comments.