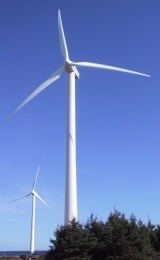 At long last, Maritime Electric has announced the details of their Green Power Program, and they've sent application forms out with the December bills.

They've choosen a rather confusing method of running this program: you must purchase green power in a regular monthly purchase of one or more 50 kWh blocks for $1.75 per block.

In other words, there's no way to just say "I want all the power I use this month to be green power" and to be billed appropriately. I imagine this is due to some sort of data processing challenge on their end. I wish they'd put more effort into this.

But, nonetheless, you can now buy wind power for your home or business, and that is a wonderful thing indeed. Yes the power is "virtual" in the sense that wind-power electrons probably won't make it your way unless you live in the North Cape, Tignish or Alberton area. But this is a concrete way of saying, with your pocketbook, "I support wind energy."

We're signing up today, buying five 50 kWh blocks a month for a total of $8.75 plus GST. Based on our monthly usage, this will cover about 33% of our energy usage.

I'd like to challenge anyone in "my industry" — designers, consultants, web hosts, ISPs, and so on — to do likewise. If we work together, we'll be able to stake a valid claim on being a "wind powered industry" here in the Island. You can read more, and download a copy of the application form, from our Wind Power Page.