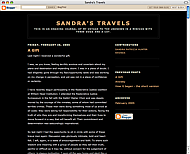 Back in Peterborough I babysat a couple of times for my friend Sandy Hunter. She lived in an interesting one-room loft on the top floor of Sam the Record Man downtown. I think she paid me in paintings.
We left Peterborough around the same time, and had the odd experience of renewing contact by each hearing the other interviewed by Peter Gzowski on Morningside the same season. Our mutual friend Patrick has kept us in random touch too.
And now, these many years later, we've ended up working on the same stuff.
Sandy emailed today that she's started a new weblog which she says she'll use to "document the journey I am taking." It's an interesting and insightful read.