It all started yesterday morning: Olle wired the night before that he had the day off, a beneficiary of the Swedish total shutdown for Midsommarafton — midsummer's eve — and we made arrangements to meet up in Malmö and plot our usual revolutions.
And so I caught the 11:02 a.m. S-train up to Hellerup where I got on the long-distance train over Oresund to Sweden. Only an hour, and no need for a passport, but another country and another currency away.
Nokia Maps guided me from Central Station right to the door of Olle and Luisa's exotic new pad on Löjtnantsgatan, a pleasant 20 minute walk around the edges of downtown.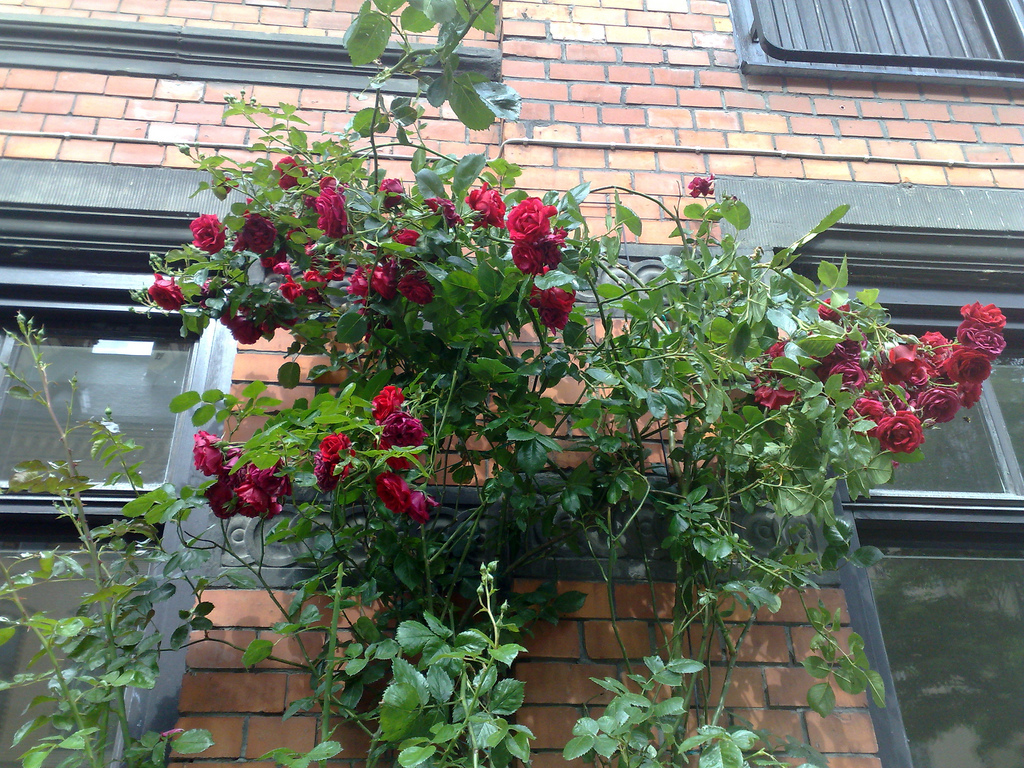 Olle, true to form, played excellent host: the Pavoni's boiler was fired up for coffee, gnocchi was prepared, and a sampling of exotic European alcohols brought out from behind the secret pantry door.
We spent a very pleasant afternoon talking about cultural assimilation, source code repositories and Mad Men and then headed off into shuttered Malmö on a fruitless cheese-gathering expedition that ended up across town at the penthouse crashpad of Olle's sister and her boyfriend where the serious Midsommarafton action would take place.
This holiday — the Friday that falls nearest the summer solstice every year — is serious business in Sweden. And so from our high perch with views both across the sound to Copenhagen and across town to the Turning Torso, a dozen of us were indulged with grilled sausages, many varieties of herring, new potatoes, smoked cream cheese, a startling array of schnapps varieties, and excellent strawberry cakes for dessert.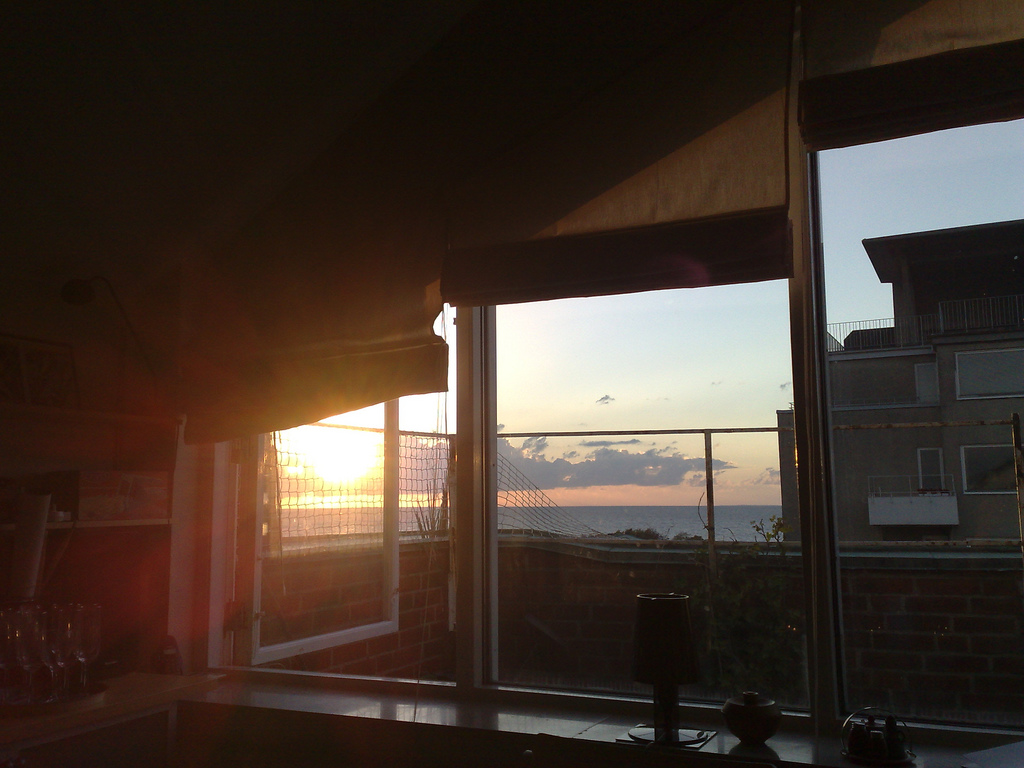 It was a good and interesting crowd to celebrate with even if, upon revealing that I was born in 1966, the response was "oh, you don't seem that old."
So apparently I am old now. At least to those born in 1980. Oddly, it was the music of my youth, not theirs, on the stereo all night long. It was like the playlist of the old YMCA youth dances teleported ahead from 1982. Sade. Tina Turner. Led Zeppelin. Elton John. Apparently everything old is new again.
What with all the schnapps, discussion of how backwards Canada is for still being part of the Monarchy, and assorted other raucous merrymaking, my best-laid plans of heading out early so as to be in bed before midnight were dashed: we stumbled out the door, happy, healthy and wise at 2:00 a.m.
Olle expertly guided me back to Central Station through the deserted streets of Malmö to catch the train; fortuitously the 2:22 a.m. was ready to leave just as I stepped on board. I was in the heart of Copenhagen at Norreport by 3:00 a.m., and there joined the drunken shawarma-clutching masses trying to navigate the night busses home.
While I was relatively firm on my feet, I was in no shape to parse complex bus schedules, and so ended up on the 94N which, unfortunately, was not going to take me home. Fortunately I realized this before it was too late, and got out at Fredrik Bajers Plads where I waited around for the 3:45 a.m. 96N bus that would take me almost to my door. While I was waiting, the sun came up.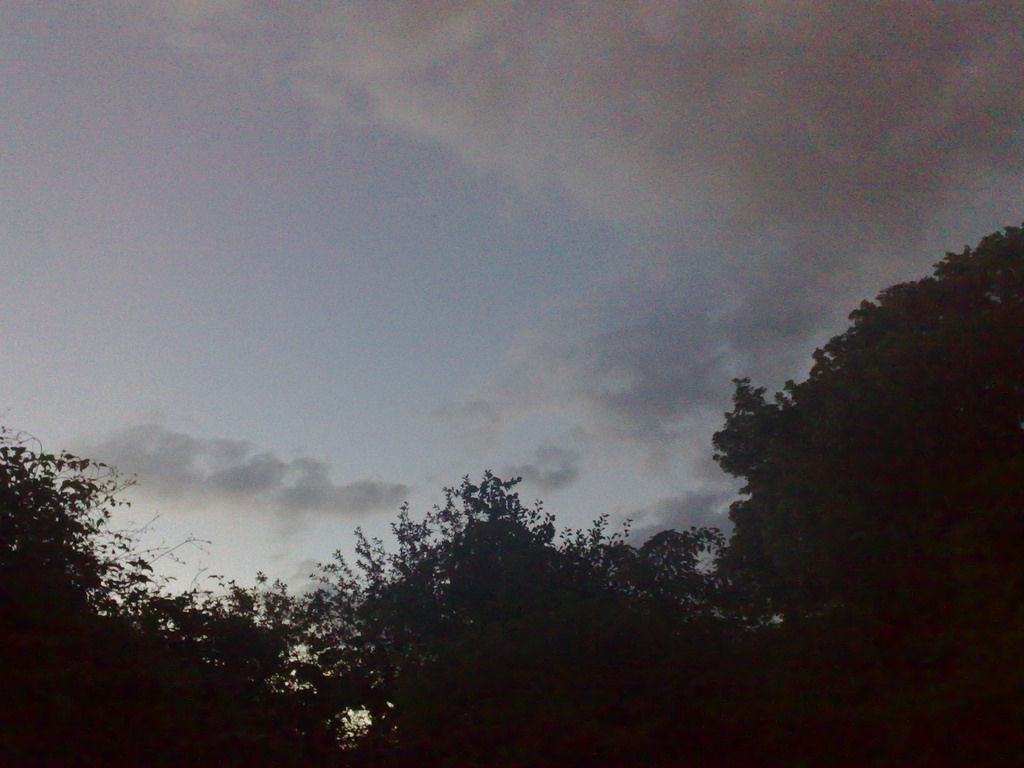 I was in my bed just after 4:00 a.m., with the alarm set for 9:00 a.m., as I had an important party to attend Saturday morning. While I fully expected a sleepless night of simulated ocean travel, I fell quickly to sleep, and while I didn't exactly sleep soundly, I made out okay, and so when the alarm went off it was more "oh, darn" than "I want to die, now."
This morning presented a series of complex logistical challenges, just the kind of thing you want to engage in after a rollicking Midsommarafton: I needed to ge me some coffee, find a picnic lunch, and find a birthday present for a four year old.
The four year old in question is Penny, daughter of my friends Henriette and Thomas (you may remember them from our trip to Louisiana last year). Today is Penny's birthday, and I was invited to Dyrehave, a forested park just north of Copenhagen to join in the celebrations.
So at 9:30 a.m. I hopped on my bicycle and headed to the local BR toy store.
Which was closed until 10:00 a.m.
So I diverted to Riccos for coffee (excellent, excellent coffee), then headed back to BR once it opened.
My challenge: find good birthday gift for a girl, I've only met once, who, because she speaks Danish and I speak English, I know almost nothing about. I wandered around BR in a daze of Lego and Playmobil and Barbie Princess Caravans for a good while until I settled on a cool-looking set of maracas, a couple of bouncy balls, some tiny stickers and some foamy dinosaurs. All wrapped on in a cloth marbles bag. I crossed my fingers and continued on.
A brief stop into Fotex to get some picnic supplies, and I was on the bike racing home to back before running to catch the train. Fortunately Klampenborg station, where I was headed, is only 10 minutes north (one of the fringe benefits of being based in the Nordvest). I caught the 11:19 a.m. S-train north, and was headed into the forest just after 11:30 a.m. Half an hour late, but not bad all things considered.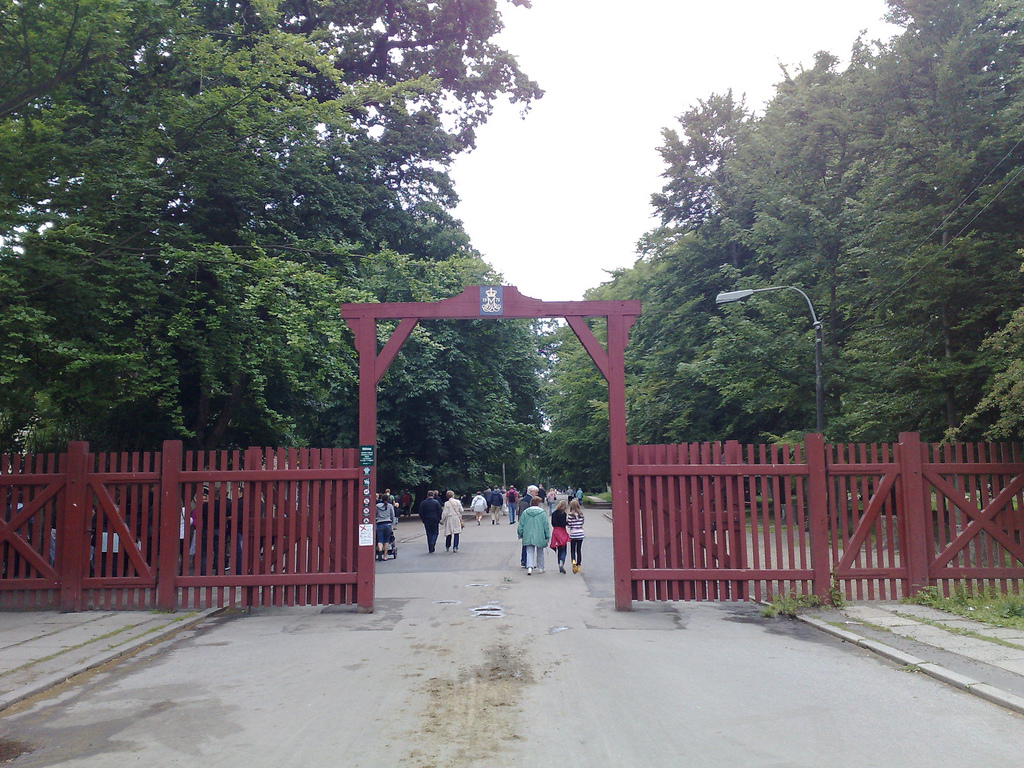 Henriette talked me in to the park via a series of scavenger hunt-like SMS ("walk straight ahead to the white house") and eventually I ran into Thomas and found the festivities just getting started.
Penny's birthday was truly delightful: presents were opened (she seemed to like the maracas; she also got two trumpets for her birthday, which must be something of a record), picnic lunches were pulled out of picnic baskets, an exotic boat-shaped cake served, and games of dodgeball and fruit salad (the later of which extended my Danish colour-naming vocabularly significantly). It rained a little in the middle, but then the sun came out brilliantly and shone for the rest of the day. I got to meet Penny's grandparents, and a bunch of Henriette and Thomas's friends (vigourous dodgeball play does wonders for removing language barriers).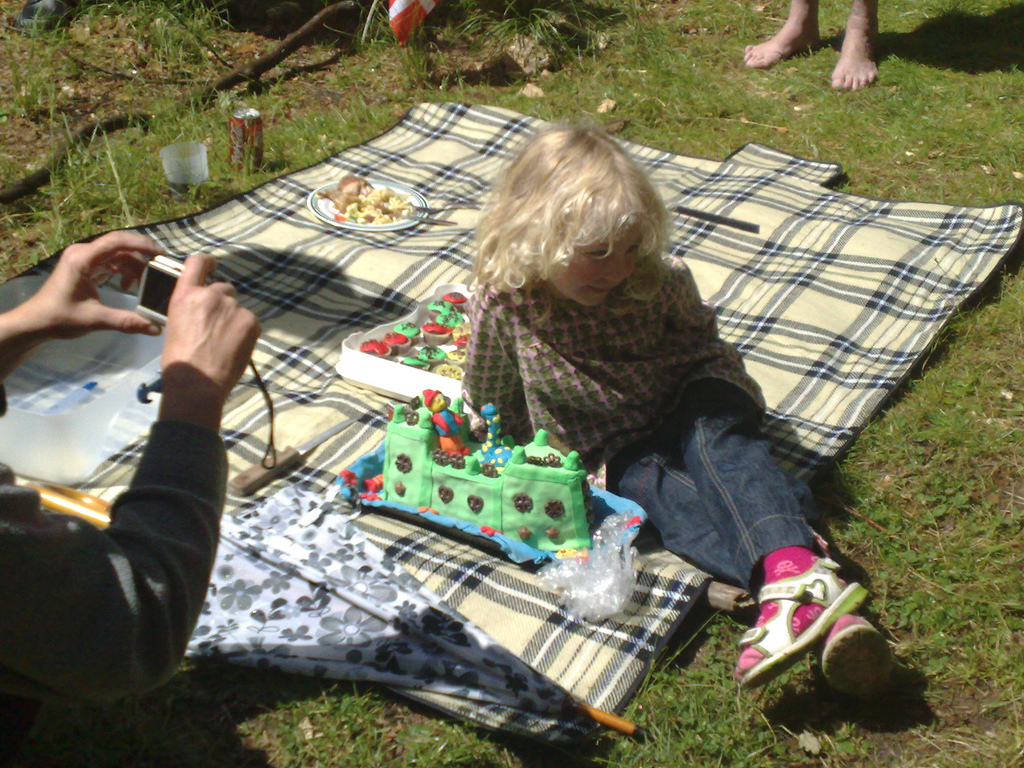 By 3:00 p.m. my crazy party lifestyle was beginning to catch up with me, and so I bid all farewell and made my way back to the train. Twenty minutes later I was in the middle of a deep nap.
This is my fourth spring trip to Copenhagen. I started coming for reboot and was lucky to make friends along the way. Now I come to spend time with friends, and am lucky to take in reboot while I'm here. Thanks to everyone for your warm hospitality; skaal.