In the mail today came the latest issue of the newsletter of the Globetrotters Club, a "a travel club for independent travellers and travel enthusiasts of all age" that I've belonged to for the last several years: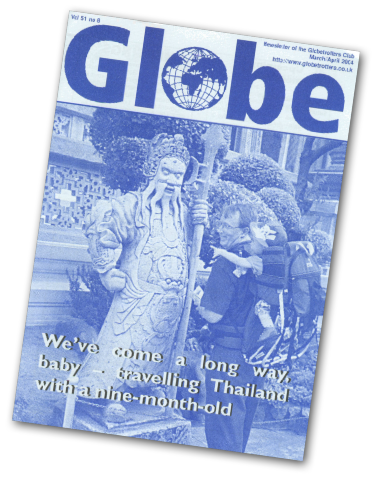 That's Oliver and I at the Grand Palace in Bangkok. Inside is a story I contributed to this issue, about our trip, in the winter of 2000, to Thailand.

The Globetrotters is a funny little club. I don't derive the full benefit of membership here in PEI, it being rather difficult to attend the monthly meetings in London. However I do benefit from the newsletter, from the list of members who will offer "accommodation, advice and help" in their own country, and from the curious joy of being affiliated with a bunch of anonymous gadabouts from around the world.

To read the article, all you need to do is join, which costs only $29/year; full details here.