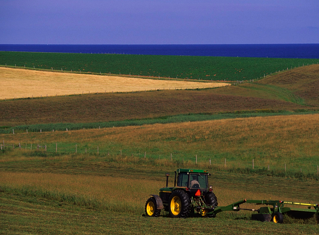 For almost 10 years now I've been working as a volunteer with the L.M. Montgomery Land Trust, a non-profit charitable organization working to preserve the scenic, agricultural coastal lands between French River and Sea View, Prince Edward Island.
Over those 10 years, the pressure to develop these lands has intensified dramatically — land that once sold for $3000/acre for development is now demanding $15,000/acre or more. At the same time, the agricultural economy has suffered several bad years, and so the economic pressure on local farmers in the area to sell land is tremendous.
The L.M. Montgomery Land Trust works with local land owners to find ways to keep non-developed agricultural land free from development. We do this using a combination of seeking donation of "development rights" for land (or outright donation of land, which we then resell, minus development rights) and purchase of development rights. We've had three successful transactions to date:
75 acres of land near Cape Tryon was preserved by purchasing land slated for cottage development from a U.S. developer and reselling the land, by tender, to a local farmer with a restrictive non-development covenant attached.
38 acres of land at Cousins Shore was donated to the Land Trust by a developer; the land was then resold to a local farmer with a restrictive non-development covenant attached.
The development rights for 17 acres of farmland at Park Corner were purchased from a local farmer. The farmer continues to own and farm the land, but is restricted in perpetuity from developing the land by a restrictive non-development covenant.
Currently the Trust is working on several fronts: the land surrounding the Cape Tryon lighthouse is under imminent threat from development, and we're working on several fronts to try and keep the land in agricultural use. And we're working with several sympathetic cottage owners who own large parcels of agricultural land, seeking donation of the development rights.
The Land Trust website has more information about who we are and what we do. In particular, this presentation to Cabinet will give you a good overview of the organization.
And, starting today, you can make donations online to the L.M. Montgomery Land Trust. If you're concerned about the loss of Prince Edward Island's agricultural lands to development, and want to help the Land Trust's work, I encourage you to make a donation.