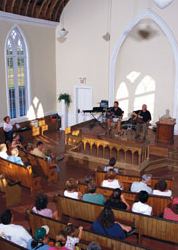 The L.M. Montgomery Land Trust is holding a fundraising concert at Avonlea Village in Cavendish on Sunday, July 11, 2004 at 1:30 p.m..

Tickets are $15 per person, and this includes the concert, strawberries and ice cream, and admission to Avonlea Village for the day.

The L.M. Montgomery Land Trust works to preserve the scenic coastal lands on Prince Edward Island's north shore in agricultural use. We work to acquire the "development rights" on land, leaving it otherwise owned and controlled by local farm families, who can continue to farm it in perpetuity, free from development pressure. It's a worthwhile cause, and I've been a supporter, and member of the Board, for five years.

The fundraising concert is being generously sponsored by Avonlea Village: all funds raised will go to the Land Trust.

Avonlea Village is a great place for kids: I took Oliver out last year and we had a great time.

You can purchase tickets to the event directly from me (email avonleatickets@reinvented.net), or from any COWS on the Island.