Friday morning in Portland we decided that we wanted to experiment with driving a car2go car, and a desire to visit a Best Buy in the suburbs to look at phones presented a conceit.
We'd previously rented car2go cars in Montreal, where the fleet is almost entirely tiny Smart cars; here in Portland, though, they only use full-sized Mercedes, the likes of which my caste doesn't allow me to drive otherwise, so there was an added bonus. The rental process was painless: find a nearby car on the app (a block from our hotel), tap its icon, enter the code on the car's dash and, presto, it's remotely unlocked, with the key in the glove box.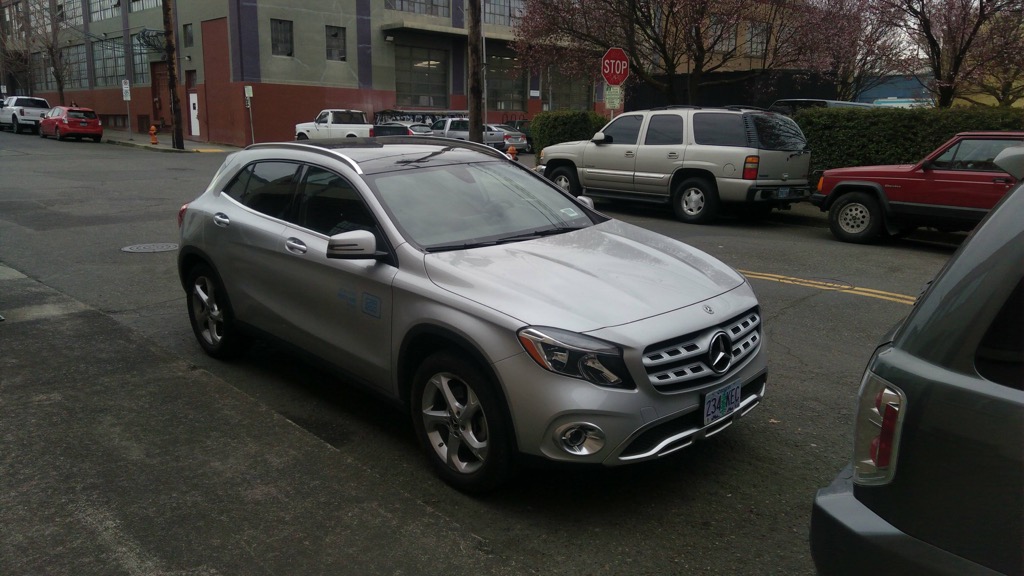 We drove out of central Portland and into the hills, found the Best Buy, decided the phones on offer weren't worthy, and drove back downtown and across the river to leave the car and go to OMSI, the Oregon Museum of Science and Industry.
The Achilles heel of using a car2go car is that you need to find a place to park it when you're done. In theory this should be easy, as any legal street parking spot with allowance of more than 2 hours is eligible. But spots near OMSI were in short supply, so we ended up touring the neighbourhood for 15 minutes before we found a spot. This was not for nought, however, as the walk to OMSI then took us by Sushi Mazi, where we stopped for an excellent lunch.
After lunch we walked through a light rain to OMSI, just 10 minutes away. The museum itself proved disappointing: while the temporary exhibit about the making of Pixar films taught us a few new things, the rest of the museum was tired, interesting exhibits were short on the vine, and the whole place was chaotic, as it was filled to the brim with agitated school break campers. We cut our visit a little short, which didn't hurt too much, as we'd only paid $10 to enter, leveraging Oliver's Discovery Centre membership, with its reciprocal admission privileges, for our entry, paying only for the Pixar add-on.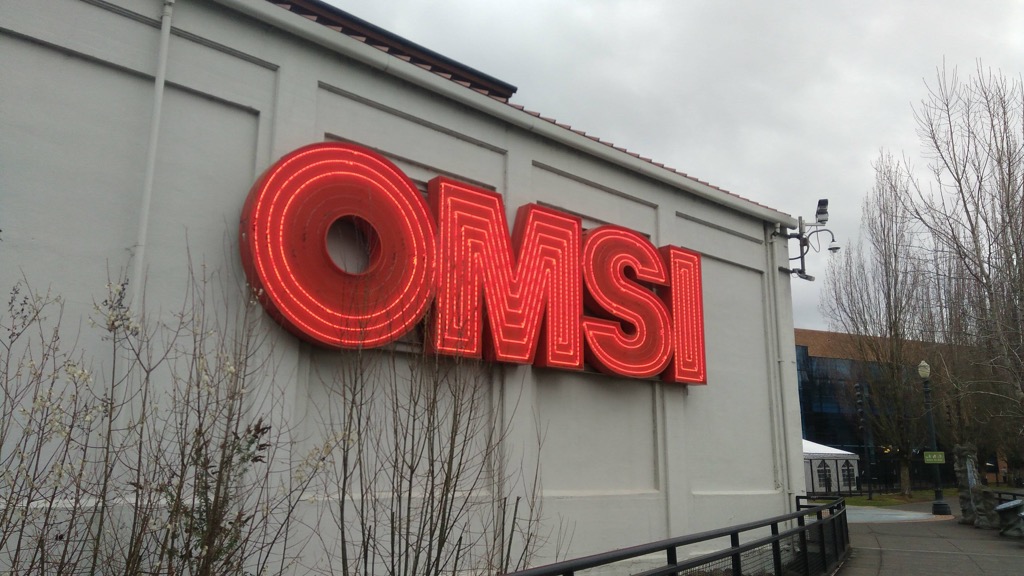 From OMSI we took the train one stop across the Tilikum Crossing Bridge to rendezvous with Oliver Baker; Portland's transit system is Scandinavian-level good, with simple fare structure, easy payment with a tap, and intermodal transfers.
On the other side we had a snack of tacos at Cha Cha Cha, bought some dog food for Ethan from a local joint and then, once Oliver B. arrived,  we rode the gondola that connects the riverside and hilltop parts of the Oregon Health Sciences University campus together; as I'm a fan of gondolas and funiculars, this was lots of fun.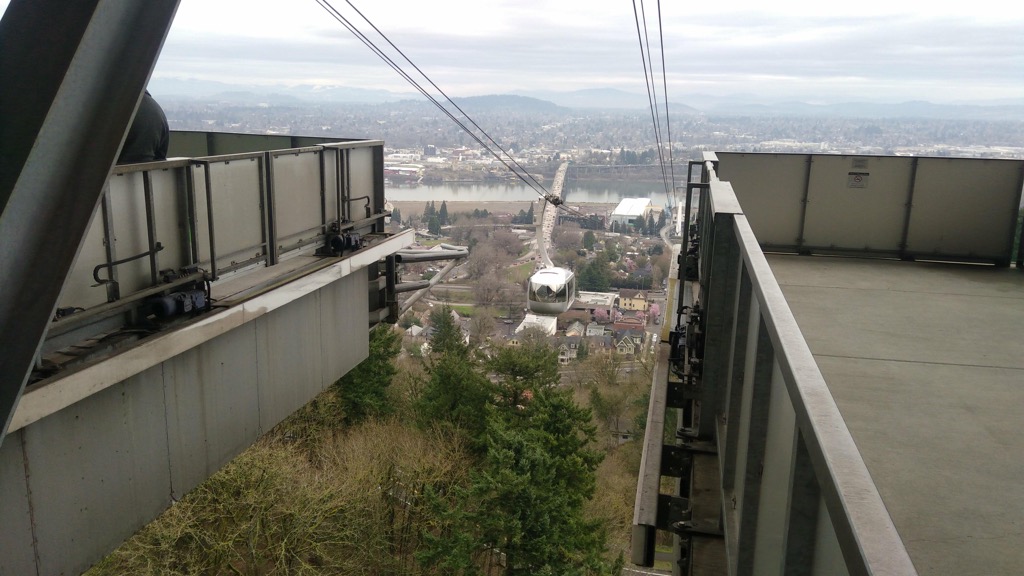 The hillside campus at the top was shiny, modern, and pleasantly art-filled.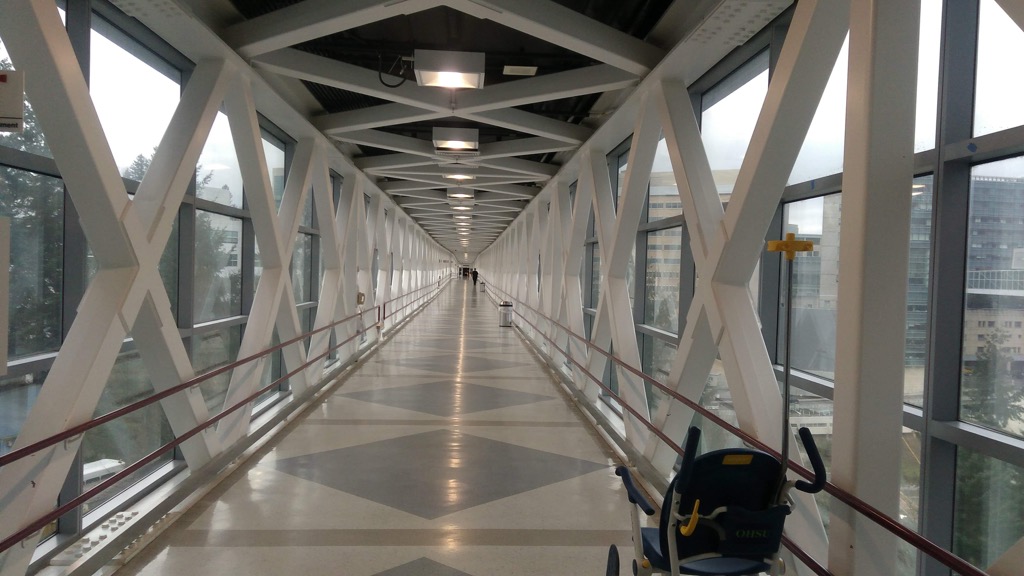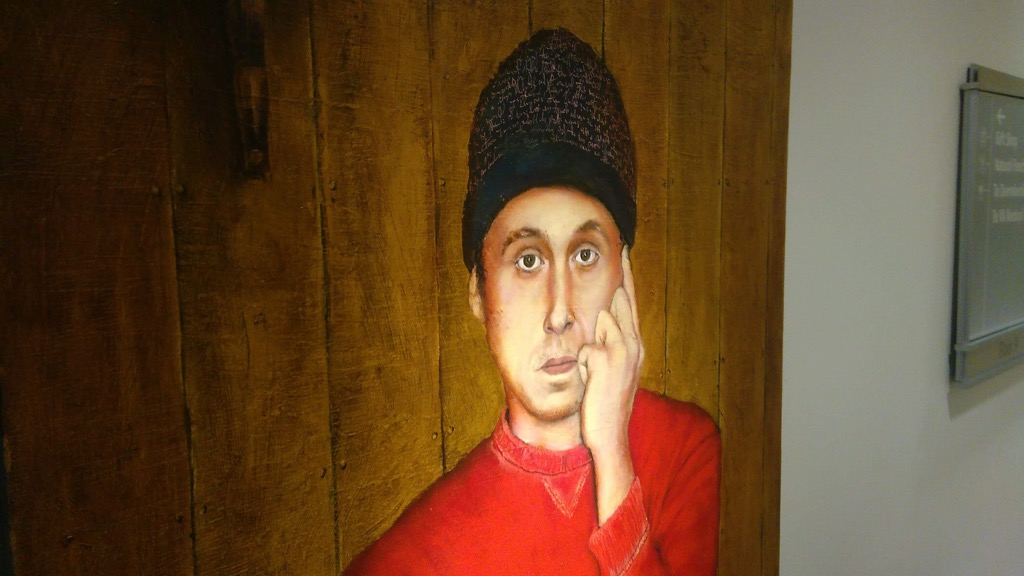 After a ride back down to the riverside, we walked back across the bridge and stopped in for a quick visit at the Oregon Rail Heritage Center; our time was limited, as they were about to close, but it was a good visit nonetheless, and we learned a lot about how locomotives work (knowledge that serves me well as I type this post on the train north to Seattle).
We grabbed a snack at Boke Bowl, walked back across the river, and took Oliver's car to his house for a follow-up snack for humans and dogs.
Our final adventure of the day was a showing of Captain Marvel at the lovely Moreland Theatre, which sported excellent popcorn, loganberry cider, and comfortable seats. Oliver B. dropped us back to our hotel around 11:00 p.m. where we retired to bed almost immediately given our fun-filled program for the day.