Someone found an LG-brand cell phone battery and left it in our vestibule at 100 Prince St., Charlottetown this afternoon. It has the following information on the back:
Model: LGLI-ACGM
CGMILL
03Y26M
It's a silver battery that would clip on to the back of a cell phone, about 2 inches by 1-1/4 inches and 1/8 inch thick: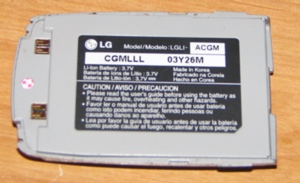 If it's yours, or you know who owns it, please email me at foundbattery@reinvented.net. Pass it on — I have great faith in the six degrees of Island separation.