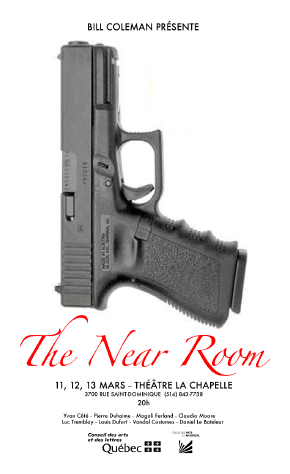 After almost a decade of purely digital design, I've re-entered the print world, if only for a brief diversionary sabbatical, creating materials for my friends Coleman et Lemieux in Montreal.

Oh how I'd forgotten the fundamental, visceral thrill of seeing a digital conception born on the printed page. No amount of browser goodness can ever duplicate this physicality: being able to pick up, hold, fold, flip over, throw, lick, and overwise fondle a printed piece can never compare to moving patterns of light around the video screen.

The first product of this re-entry is the poster at right, for The Near Room, a piece that Bill choreographed that runs March 11, 12, and 13 at the Théâtre La Chapelle in Montreal. Bill promotes the piece as follows:

His first new work in 3 years, Bill is hoping it will go unnoticed beside his war memorial Convoy PQ 17 for orchestra, chorus and dancers to be presented at Pierre Mecure, June 6, 2004. Why shouldn't it? Well for one reason, it has more firearms in it then Brian De Palma's Scarface, and for another, the evening seems to consist of everything we dread: death, premature death, violent death and cancerous death. Juxtaposed against the impossible innocence of a 14 girl.
Print has limits — cost, colours, the size of the printed page — that the endless screen doesn't. I'm finding these limits oddly comforting.

Stay tuned for the PQ 17 work, coming soon.