While I was trawling through the archives of Arthur from 1985 this morning, I noticed that there was an ad in every issue for Ernie's Barber Shop – "Ernie & Pauline, Operators" – on Simcoe Street: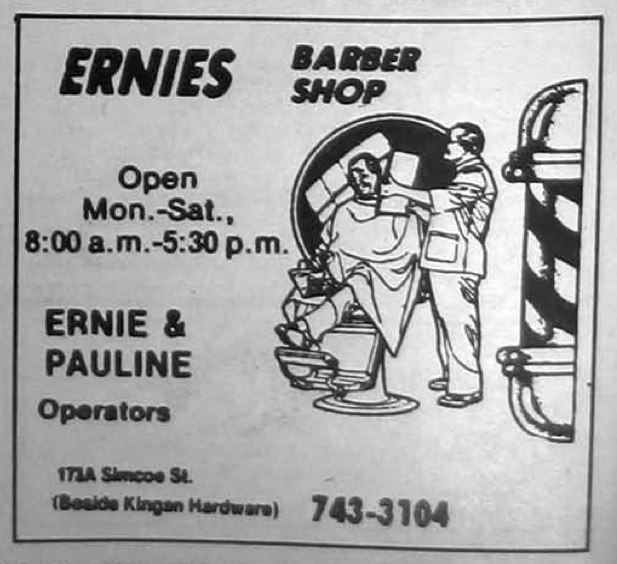 And then, in the issue of November 11, 1985, a review of Ernie's that I wrote – my first newspaper story (although it ran, oddly, without a byline), headline "Real haircut":
For the past 15 years, I'd been making the monthly trek out to the old "Long Acres Barber Shop" near home; Kurt, Louis, Joe and Mike were always there, always friendly and had become like members of the family. Moving away meant saying good bye to all that; facing the world on my own: finding a NEW barber.

I roamed the streets of Peterborough … oh there were places to get your hair cut — "Rice's House of Unisex Hair Design," "Fernando's Hairateria", "The Hair Cutting Ranch" — but no real barbers. In desperation. I let my fingers do the walking and pulled out the yellow pages. There. between "Dynasty Hair Design" and "Esquire Hair Salon" was what I'd been looking for "Ernie's Barber Shop".

Quickly I found my way to 173-1/2 Simcoe Street. At first I thought that Ernie'd been bought out by some crazed lawn ornament salesperson. There were all sorts of things — I think they call them "curios" — in the front window. It turned out that Ernie IS the crazed lawn ornament salesperson: I guess you can't make a living just cutting hair.

I opened the door, walked in, and immediately knew I was in my element. I was greeted by Pauline (Ernie's protege) and escorted to a real barber chair. Pauline was extremely friendly and my fears disappeared within minutes. The conversation was pleasant, my fellow customers interesting (there's one lady who comes in nearly every day and has been for the past couple of decades) and the hair cut superb (I was assured that if I wasn't pleased I could come in anytime and they'd touch it up "on the house").
That article in Arthur caught the eye of James Ramsay, also an Arthur writer and a Trent student a few years my senior. James also grew up in near Aldershot, and also got his hair cut at the Long Acres Barber Shop. We remain friends to this day.
I had my cut for years thereafter at Ernie's, sometimes by Ernie, and sometimes by Pauline (although after a while Pauline left and Ernie was on his own). Eventually the original location closed and Ernie opened up in a more modern space around the corner, and I followed him there. Who knows how many times Ernie cut my hair.
Toward the end of my time in Peterborough I went into Ernie's for what turned out to be my last haircut in the the city and my last hair cut from Ernie. As I was sitting there in the chair with Ernie at work I noticed a newspaper clipped taped to the corner of the mirror: it was my article from Arthur.
I thought about telling Ernie that I was the writer – and for all know he'd figured it out — but I decided to remain anonymous. My haircut done, I paid Ernie, left him a tip, and headed out, a satisfied customer.
I learned this afternoon that Ernie died, of lung cancer, a couple of years ago; here's his obituary
KALWA, Ernst "Ernie" Erwin, born 26 October 1929 in Osterode, Germany, succumbed to lung cancer in Peterborough on 01 December 2012. Ernie immigrated to Canada in 1953, and came to Peterborough on the recommendation of a man he met on the ship. He found work as an orderly at St Joseph's Hospital where he met Registered Nurse Muriel Doris Calberry of Hastings. They were married 26th October 1955. He began barbering in 1954, operating Ernie's Barber Shop on Hunter Street, and later on Simcoe Street, until retiring "a legend in barbering" in September 2012. Ernie was an avid angler and horse-racing enthusiast. He is survived by his loving wife Doris, son Paul Elliott Allen Kalwa of Peterborough, son Ernest Larry Kalwa (Elysia DeLaurentis) of Elora, sister Elli and brother Walter, both of Germany. He is predeceased by his parents Johann and Augusta Kalwa (née Opalka), brothers Adolf and Paul, and sisters Ida and Hedwig, all of Germany.
It amazes me to learn that Ernie was still barbering until two years ago, 27 years after I first walked in his door.
Thank you, Ernie, for filling an important void in my life at an important time. And for getting me started in the writing game.