I first read about Plazes, the pioneering geolocation site that consumed much of the late 2000s for me, from Joi Ito and I signed up for an account on September 26, 2004, eight years ago, and "plazed myself" from the old Reinvented office. I was user number 1185.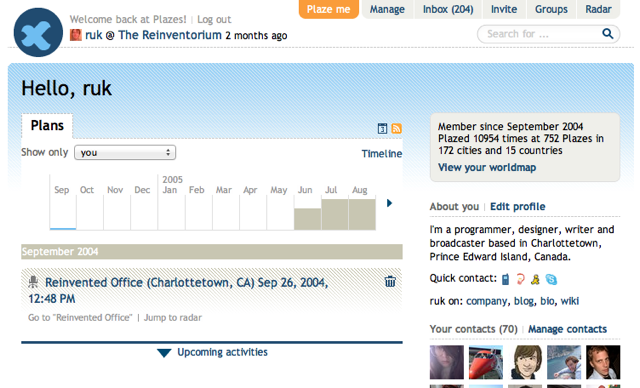 In the intervening years I visited 752 "plazes" in 172 cities in 15 countries and plazed myself another 10,954 times, which was slightly more than Plazes co-founder Stefan Kellner (9,948) and slighly less than Plazes co-founder Felix Petersen (11,822).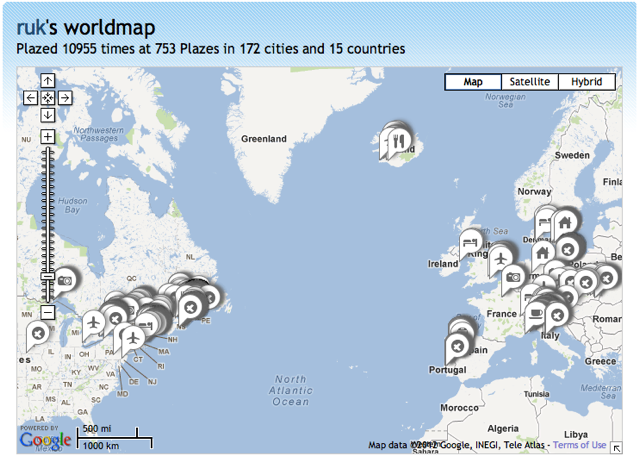 Although I signed up in the fall of 2004, Plazes didn't really come into its own for me until the 2005 reboot conference in Copenhagen, where I had the seminal Plazes experience, meeting Ton Zylstra and Martin Röll (who remain good friends to this day).
After several years of being a Plazes power-user, in November of 2006 I got hired on to develop an explanatory screencast about Plazes, which I just dug out of the archives and uploaded to YouTube and the Internet Archive for posterity (note the references to the hot social networks of the day — MySpace, Friendster and TagWorld).
In June of 2007, after I liveblogged a visit to Plazes HQ, I formally joined the Plazes team as a User Advocate, working remotely from Charlottetown, where I blogged, hacked (including working with Til on a skunkworks Plazes.net project), developed and organized PlazeCamp in January of 2008:
On the tail end of the reboot conference in 2008 it was announced that Nokia had acquired Plazes. I stayed on as a Nokia contractor for a few months, but eventually it was clear that Plazes was going to become something different — perhaps integrated into Nokia's Ovi Maps product — and not a standalone product with a need for someone like me, and so I stepped back into power-user-hood.
In the intervening 4 years we of the Plazes faithful have been assuming that we'd simply wake up one day and find that Nokia had taken Plazes offline. This morning the email came, albeit with some advance warning: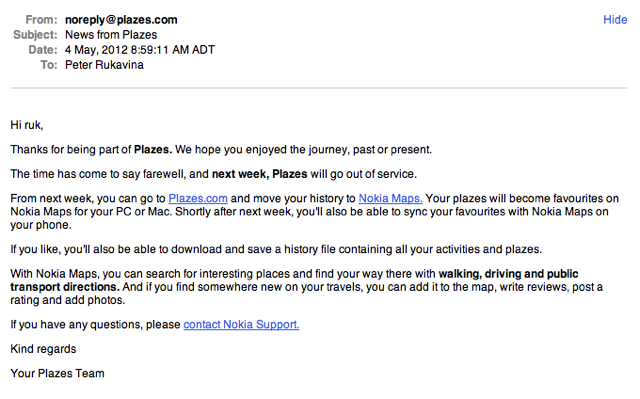 Logging in to Plazes one last time I joined members of the old team in one last plazing: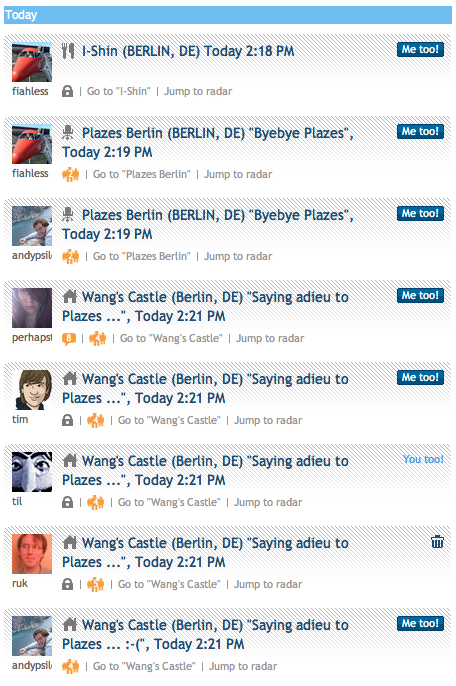 Good-bye Plazes; it was quite a ride.