Earlier in the day I mentioned the abysmal state of schedule information for East Coast Music week here in Charlottetown. But way of helping mitigate this a little, I've taken the information for the two events, Discovery Stage and MIAFest, and have created a Google Calendar for them that you can grab and integrate into your digital lifestyle in a variety of ways:
You'd think that this sort of "open data for public events" would be an expected part of organizing any event these days, but even at the hippest of tech conferences it often seems to be left out, and what we're left with is graphic artists' impressions of usefulness.
These are obviously very unofficial calendars, subject to be completely wrong or out of date.
The nice thing about having the data in open formats is that the data is free to flow wherever it may; here's the iCal file on my iPad, for example: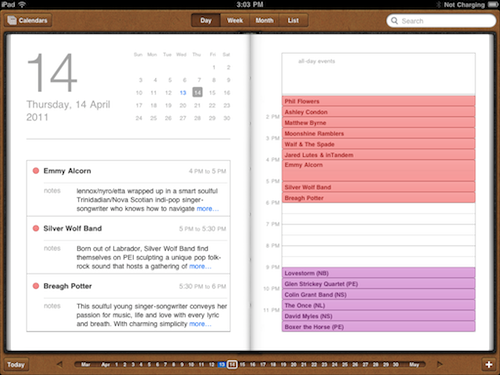 I can set alarms, send invites to friends, and generally arrange my musical week in an environment that I'm comfortable with.