By quirk of fate, brother Johnny is flying from Vancouver to Boston today on Alaska Airlines. While I'll have to wait until Johnny lands to see what the service was like, there are several neat things about Alaska Airlines.

First is that in addition to looking up flight status on their website, you can also see the actual position of the plane. This is not only nifty, but also helps to prevent that Air Canada trick of "oh, we just learned the incoming flight will be delayed" when the plane actually hasn't left the originating city yet. Here's Johnny's plane at 37,000 feet over Montana this afternoon: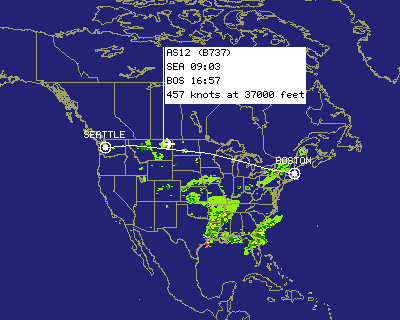 Second is that you can print your own boarding pass from their website, up to 24 hours in advance of your flight. Of course you need a printer, which is something Johnny lacks, so he had to revert to old-style check-in.

More news when Johnny arrives at Logan.