Tonight was "Parent Orientation Night" at Prince Street School for the parents of kids, like Oliver, who will be starting Grade One in the fall.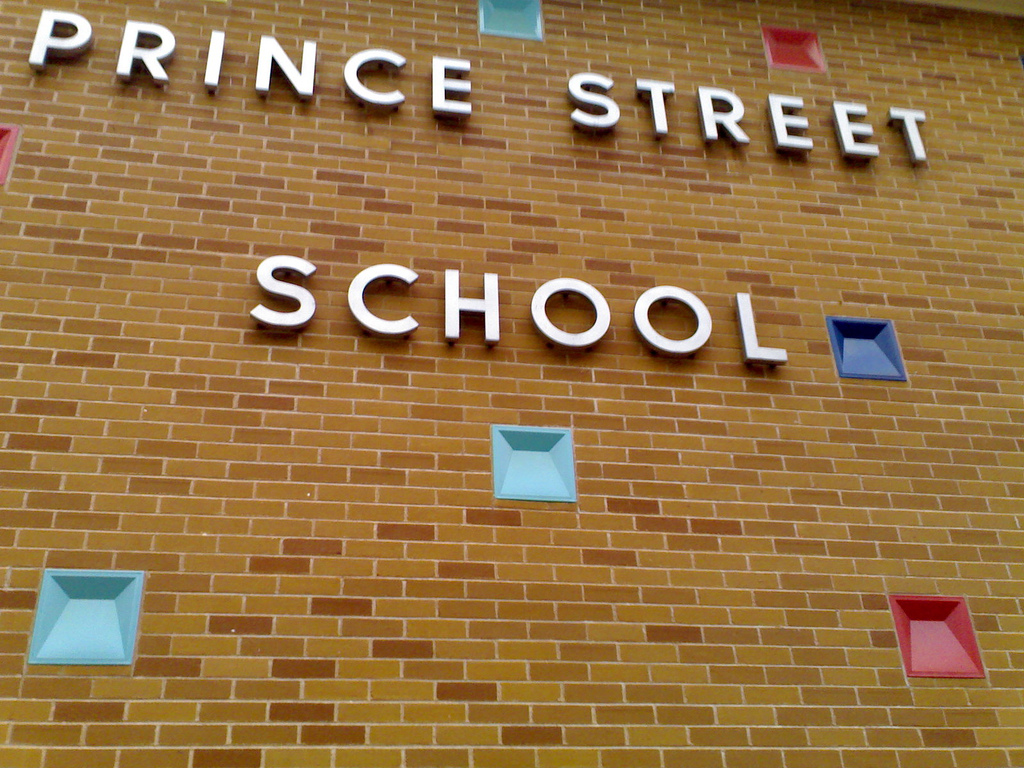 I have had two excellent sources of wise counsel in preparation for all of this.
My friend Ann offered the advice that, in essence, I shouldn't try to play out my own educational issues at the expense of Oliver or his teachers. In other words the "homework's for bores — go make a volcano" parenting that I might wish for will only lead to Bad Things for all concerned. So I've decided to channel the old "all formal education is evil" Pete into new-style "do everything you can to help, but don't be a jerk" Pete.
And my friend Tom, who has a large brood of Prince Street alumni in his family, has been saying only good things about what a good neighbourhood school Prince Street is. Tom's opinion of things goes a long way in my books, so I'm walking in with a Good Attitude to begin with (Tom also runs the dairy that fuels my morning cappuccino, so he obviously has vast influence on my life…).
So tonight's mission for me was to sit there, take it all in, and resist the urge to stick my hand up and ask something like "so what's your condom policy" or "do you include anarchist thinkers in your Grade One political theory classes." So I whispered quietly to myself "Don't be a jerk. Don't be a jerk."
The school itself, as you can see from the photo above, is very evocative of early-1960s Canadian institutional architecture, right down to the multi-coloured bricks cemented into its front. Inside it's actually quite interesting: while the old Prince Street Elementary was an imposing behemoth of a building built two centuries ago, the "new" Prince Street is built sort of like a split-level house. I've been driving by the school for 15 years, for example, and I had no idea there was a gym tucked inside there somehow.
Grade One orientation was quick and to the point: get your kids to bed early, we'll be watching for lice, we're pretty sure they'll know how to read when they come out the other end. The Principal, the Public Health Nurse, the School Counselor and one of the Grade One teachers all made a short presentation; they were all very pleasant and seemed very unlike the evil manipulators that I'd been casting for their roles in my head in the 36 years since I was in Oliver's place, and the 6 years that I've been anticipating this next jump. Don't be a jerk. Don't be a jerk.
Enrollment is down at Prince Street — where there were once 400 kids, there are just over 200 now. For Oliver this means that it's an open question right now whether there will be two grade one classes or one; they're losing a staff position for next year, and there are 30 kids registered for grade one right now, so a lot will depend on what rearranging happens between now and then. We were assured that we won't end up with one class of 30 kids, however.
Next exciting step on this adventure (Don't be a jerk.) comes next month when the current Grade Oners stay home for the day and the new crop comes in for a beta test. We've been instructed not to cry when dropping our kids off for that event: apparently seeing parents cry suggests to kids that school might not be all sweetness and light. Pluck up. Don't be a jerk.