If only for the novelty of it all, I'm running an ad in Facebook, targeting "targeting liberal and moderate people between 18 and 60 years old in Charlottetown, PE." Facebook says there are 3,060 of these people out there. We'll see what happens.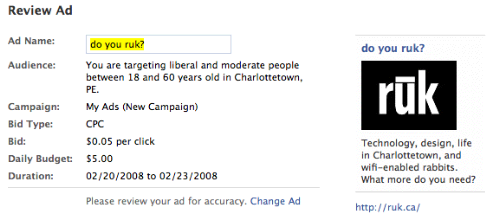 Update: Looks like I'm not running a Facebook ad after all:
The text of this ad contains excessive or incorrect capitalization. All ads must use appropriate, grammatically correct capitalization. The title of your ad, as well as the first word in each sentence, must begin with a capital letter. Lastly, all proper nouns and acronyms should be capitalized. As per section 4 of Facebook's Advertising Guidelines, all ads should include standard and proper capitalization.
Lord knows what would happen if silverorange, e.e. cummings or the fifth estate — lower-case tilted all — try to advertise on Facebook.