It's not like this hasn't happened before.
Back in 2007 I noted the existence, buried deep inside the Robertson Library at the University of PEI, of a mother lode of multimedia production gear, sitting under-loved and under-used, and lamented that word of such a powerful kit wasn't being sung from the hills of Charlottetown.
This time around I'm determined to make sure that doesn't happen, and the object of my determination this time around is the exciting new Collaboratory that opened recent in the library, this time in full public view and with absolutely no barriers to use.
I initially thought that collaboratory was a goofy-sounding name full of pretense (keep in mind that the previous venture was called Arts Netlantic). That is until I learned that this is a bona fide concept, not a locally-brewed-up name:
A collaboratory, as defined by William Wulf in 1989, is a "center without walls, in which the nation's researchers can perform their research without regard to physical location, interacting with colleagues, accessing instrumentation, sharing data and computational resources, [and] accessing information in digital libraries"
Okay, so that is somewhat pretentious.
But it actually does some justice to what you'll find in the space formerly occupied by the "Media Centre" in the library: what used to be a dusty collection of barely-working turntables and cassette players surrounded by a dusty collection of long-playing records has been transformed into a multimedia playground drenched in high-end Mac computers with huge cinema displays and all the analog-to-digital transforming gear you could ever wish for along with all the digital editing software you'd ever need to create a Hollywood movie.
And it's just there, waiting for you to come and use it.  You don't have to belong to the University, you don't need a library card, you don't need to sign up for anything, you don't need a username or password: you just walk into the Library, go down the hall where the catalogue terminals are, turn left, and, blam, you're in multimedia heaven ready to start creating.
Needless to say, I've been taking advantage of this new resource.  Here's Oliver using the video editing machine to create a video for Climate Action Day: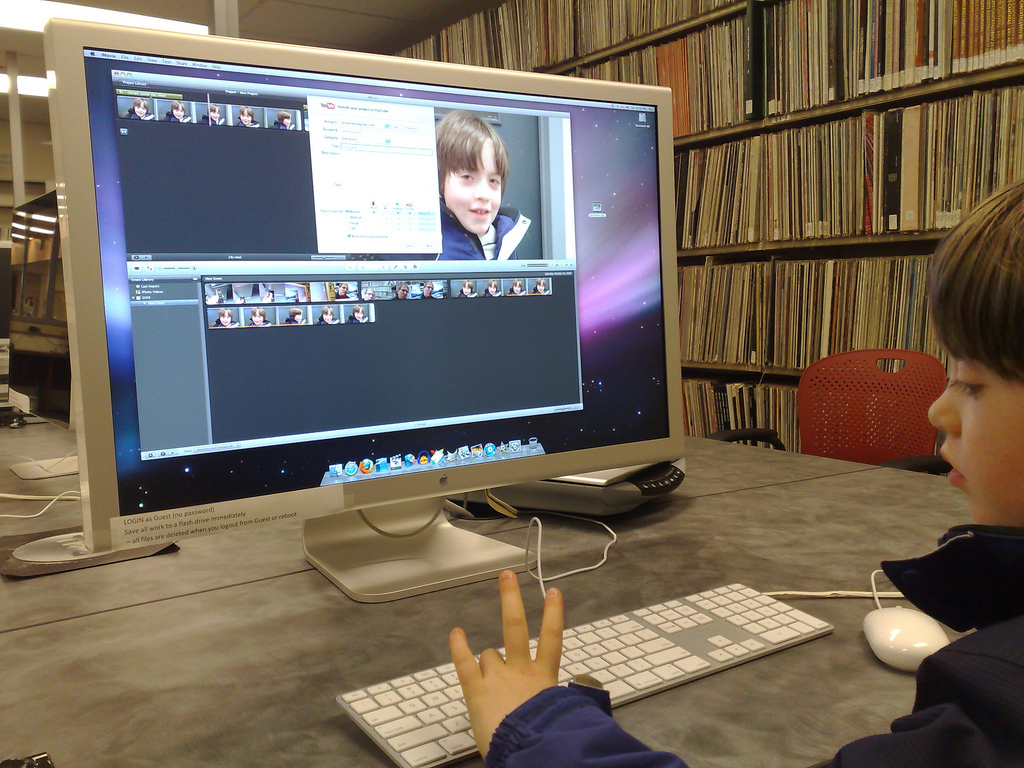 And here's the workstation that lets you convert old VHS videotapes into digital video files: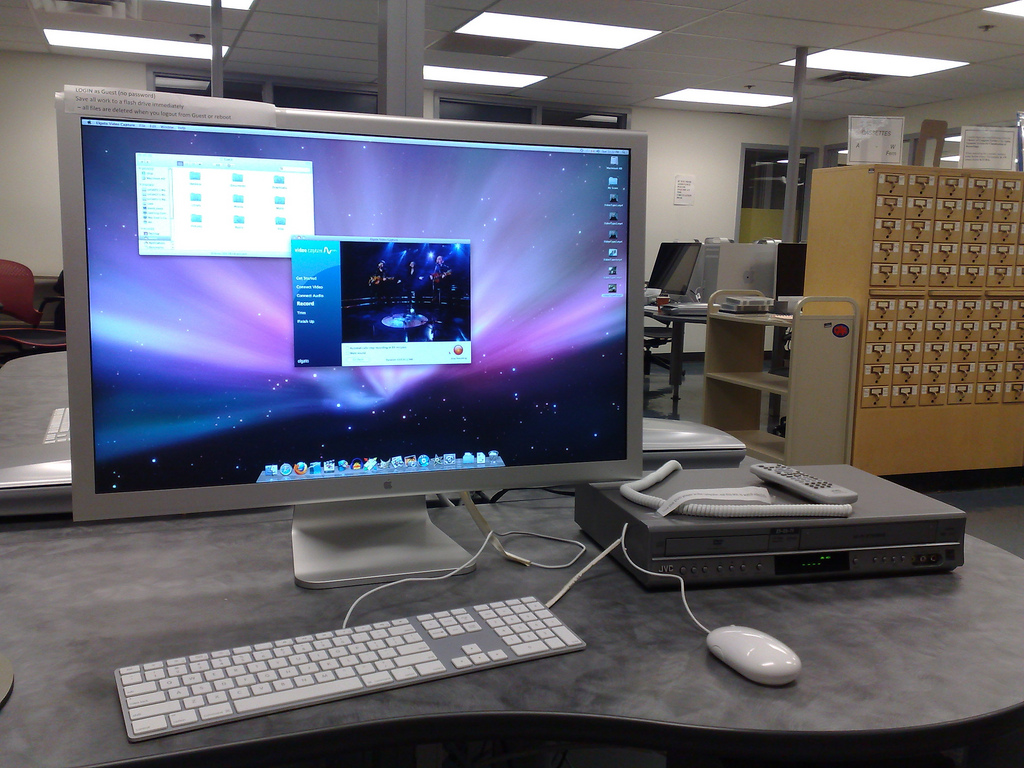 I went a little wild yesterday with the collection of VHS tapes that had been piling up in our cubbyholes since our last VCR broke down.  Among them I found a recording of the Charlottetown-hosted 1996 East Coast Music Awards, from which I pulled:
Those are all raw multi-megabyte MP4 video files, so you might want to find fast Internet before downloading (another benefit of the Collaboratory: really, really fast Internet).
I encourage you to take advantage of this great new resource, and when you do I encourage you to let the library staff know that this is what they should be doing more of.