In 2009 when Oliver and I landed in Kosice, Slovakia, we spent a good amount of time seeking out the components of a diarizing system with which we could, in analog form, document our trip. We sought a notebook. A pen. A glue stick (for affixing receipts and other paper evidence to the notebook). This was one of a long line of such assemblaging adventures, and something that we've come to rely on as an important part of travel.
There's a lot to recommend it.
First, the process of gathering the required materials takes us into all manner of places that we'd never go otherwise: stationery stores, pen shops, the glue stick aisle of the grocery store. It's a tour of the local paper goods aesthetic. And the tour often results on spin-off benefits — the restaurant found down an unlikely alley, the conversation with the pen shop owner.
Second, having a formally acquired tool set for making a diary ups the ante with regards to actually writing diary entries: we've already invested all this time, we must make best use of it.
Third, the process of writing the diary entries is both a useful way of processing the day's events and a useful reference for the future when trying to remember the name of the smoky restaurant in Kosice (Amir) or when it was that you lost your temper and wanted to go back to the hotel forever (Phitsanulok). It's a counterpoint to the digital diarizing that happens in this space (or this one), but includes things too mundane, too personal, or too salacious for public consumption. It's point-form notes, the detailed plot of the adventure before it's distilled into story form.
And, finally, writing in a diary is a slow process best done outside and over coffee. It's completely unlike sitting in the wifi-enabled Airbnb and tapping away at a keyboard. It's a contemplative, public, social act. And that's something that every trip needs more of.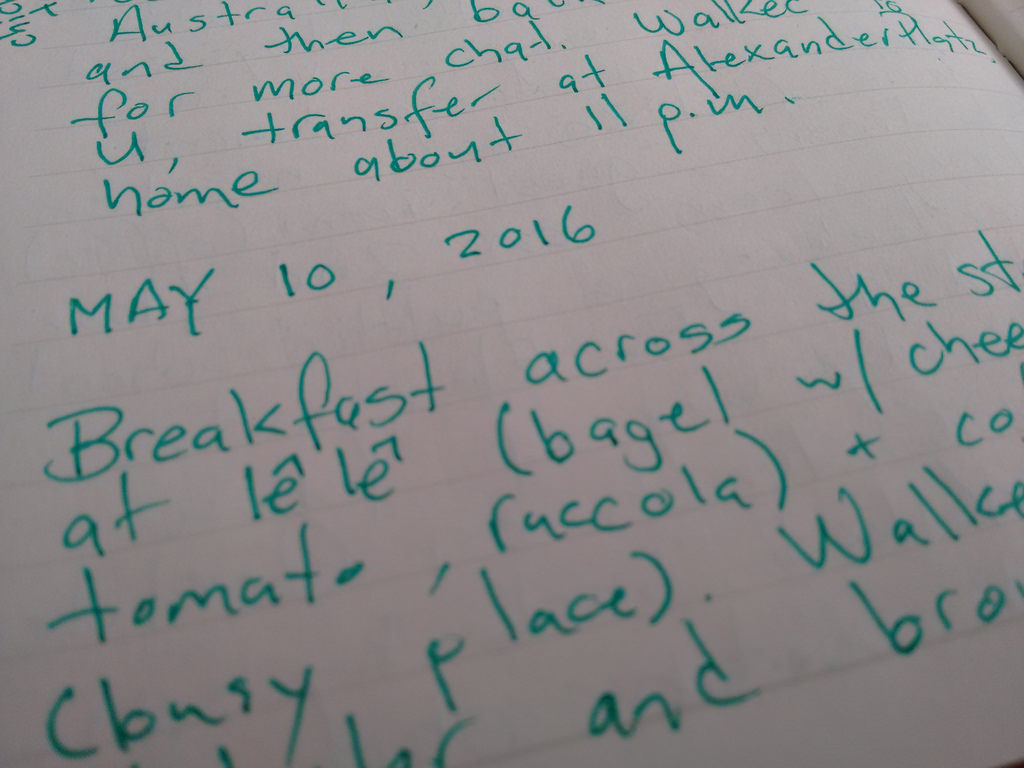 I've found it useful, recently, to add one item to the kit: a holder. Conveniently for this trip, I happened to visit MUJI, which specializes in such things. So the Berlin assemblage looked like this: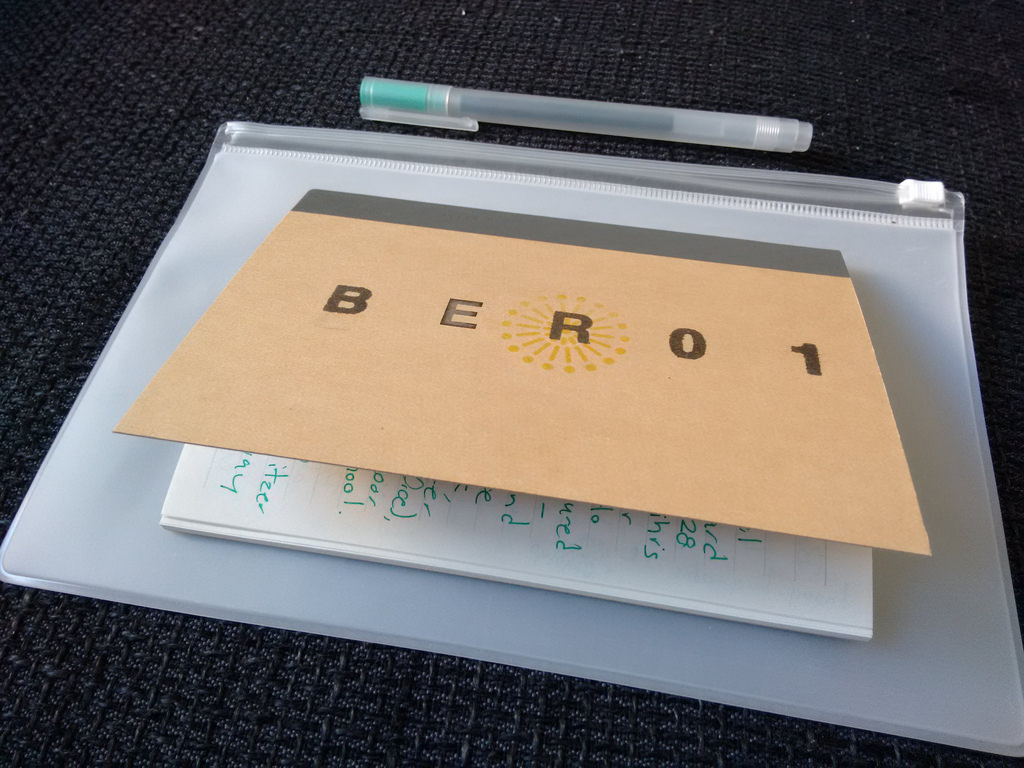 The MUJI here in Berlin includes a "MUJI YOURSELF" station near the exit, with a collection of self-inking rubber stamps you're free to use to customize products you've purchased (and MUJI products, branding-free as they are, are perfect for this):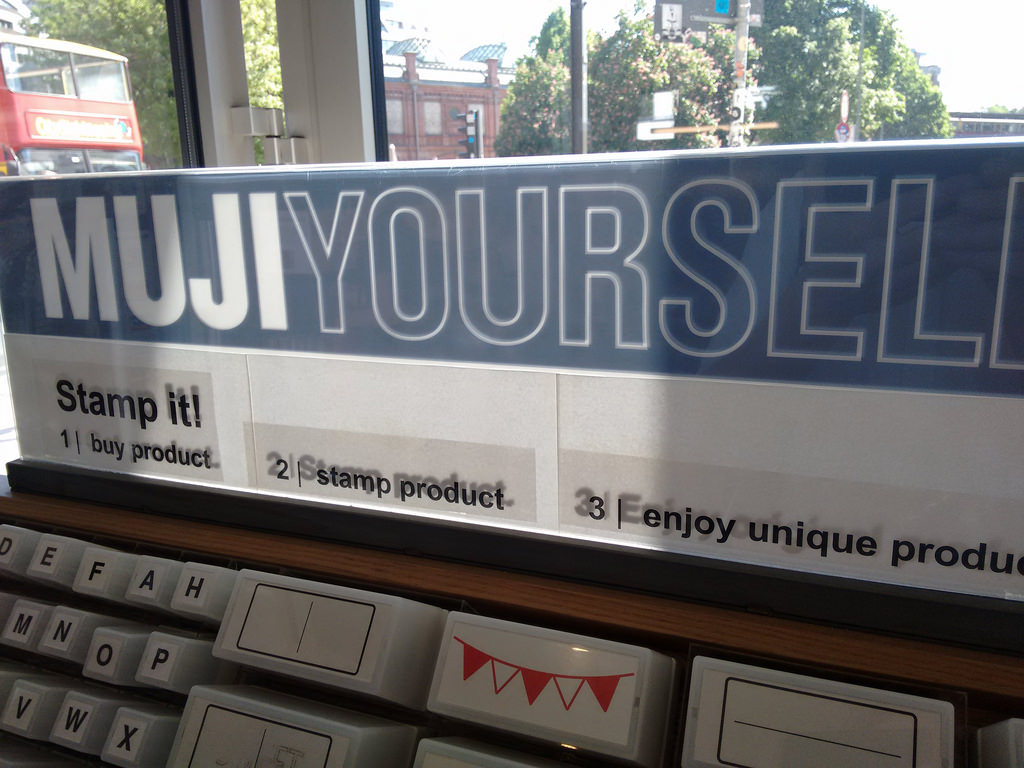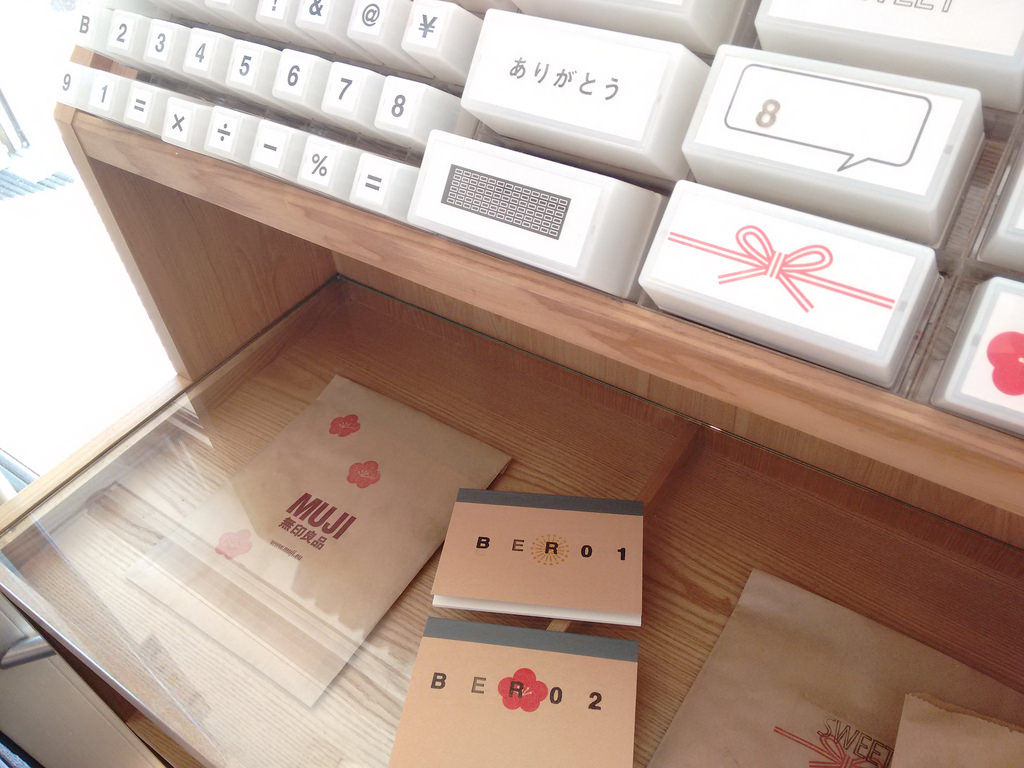 I left BER02, the second of the notebooks, as a gift for Peter and Michelle, who generously loaned me their flat while I've been in Berlin.