Patricia Heaton won an Emmy tonight for her role as Debra Barone on the CBS comedy Everybody Loves Raymond. It was her second win for this role.

I have never been able to watch Everybody Loves Raymond; it never clicked with me. It's partly because, well, it's on CBS, which doesn't hit my demographic. And partly because the show itself seems like a pale rehashing of Roseanne. Perhaps I'm mising something.

Heaton, though, I've always considered a first rate actor. Her seminal role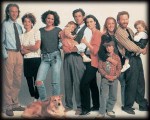 (pardon the pun) was playing Dr. Karen Silverman in the 1980s ABC drama thirtysomething. She debuted in Episode 304, delivering Susannah's baby, and later returned to deliver Hope and Michael's son Leo, and as Nancy's doctor when she went through cancer treatment.

I remember thinking at the time of thirtysomething that she was the kind of OB/GYN I'd like to have around if I ever had kids with someone. As it turned out, Dr. Sproule, our OB/GYN here in Charlottetown last year, came pretty close.

So, congratulations on your Emmy, Ms. Heaton.


Disclaimer: If you think the fact that I am a big thirtysomething fan gives you the right to think less of me, well, think again. I watched every episode. I once bought a TV at Kmart in El Paso, Texas, just so I could watch (I returned the TV the next morning). At the time it was great, groundbreaking TV. And it holds up. So there.