Delicious Library is a new program, for Mac OS X only, that lets you "import, browse, and share all your books, movies, music and video games."
That sounds, on the surface, a lot like the hype for the Commodore 64 I used to deliver on the floor of Canadian Tire: "you can use it to manage your recipe collection" was our big pickup line.
But it's 20 years later now, and computer have gotten easier to use, faster, and more lucious.
The big, cool hook for Delicious Library is that you can use your Apple iSight camera as a barcode scanner: hold your CDs, books and DVDs in front of the camera, and the application grabs an image, and all the cataloging information, over the Internet, and creates a new record for you.
And it works (click image for a larger version):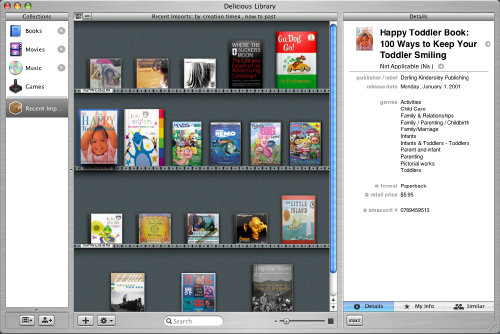 The barcode scanning takes a little getting used to, mostly just finding the right position to hold barcodes in front of the camera. Pulling a selection of items out of our living room — everything from Oliver's picture books to DVDs — I batted about 80% on lookup success (the items that couldn't be found were generally older or obscure, which makes sense).
Am I — and more importantly, is anyone else — crazy enough to catalogue all of my "content assets?" I don't know. But if I was going to, I can't think of a better, easier way of doing it.