Yesterday was my first of five scheduled dates in the letterpress studio at Druckwerkstatt. Regular readers may recall that, thanks to the eagle-eyededness of my friend Luisa back in February when having supper downstairs at 3 Schwestern ("I think there's something to do with letterpress printing in this building"), I discovered this print studio arm of Kulturwerk, a non-profit "infrastructure for the arts" organization in Berlin.
After some backing and forthing by email with Doris, the helpful Druckwerkstatt administrator, I made arrangements – at the very reasonable price of 8 euro a day – to spend every Tuesday of our summer in Berlin using their printing equipment. And yesterday was the first Tuesday.
At the appointed hour of 9:00 a.m. I arrived at Doris's office to find that Doris had left for vacation and there was no record of me. Fortunately Doris's replacement kindly pulled together the various pieces of paper and obtained necessary signatures to make me official, and then introduced me to Mathias, the director, who gave me a whirlwind tour of the printing facilities.
To get from the main office, which sits just above 3 Schwestern, down into the letterpress studio you enter a tiny elevator and go down two floors into the basement whereupon you enter a rabbit-warren like network of rooms holding printing, binding and cutting equipment, with the halls filled with drawer after drawer of metal type.
There are many amazing things about Druckwerkstatt – offset presses, screen printing workshops, digital plotters, bookbinding shops. Alas it turns out that letterpress printing is the sort of forgotten cousin of the group. There is scads and scads and scads of metal type – I'd hazard a guess that there are at least 200 fonts – but nary a fully operational "personal-sized" letterpress in sight.
Mathias suggested that I use the old Gutenberg-style press as a backup, but then it turned out there wasn't even a chase for the type, which would have made that almost impossible.
Fortunately at this point Frank turned up. Frank is the amiable manager of the print studio, and he sprang into action suggesting that although it would be nigh unto impossible to set smaller metal type, we could use the partially-functioning proof press – a Grafix-brand press and operates much like a Vandercook – with larger wooden type, manually inked with a brayer, to get me going (he also referred me to the neighbourhood Linotype shop; is there nothing that Kreuzberg cannot provide?).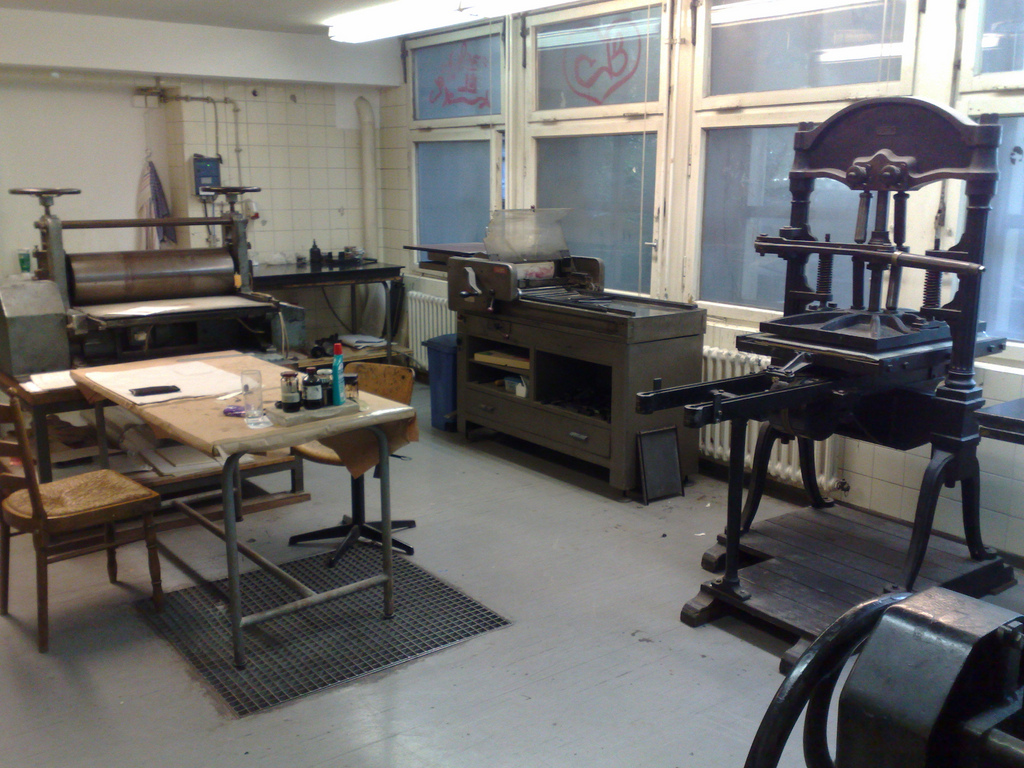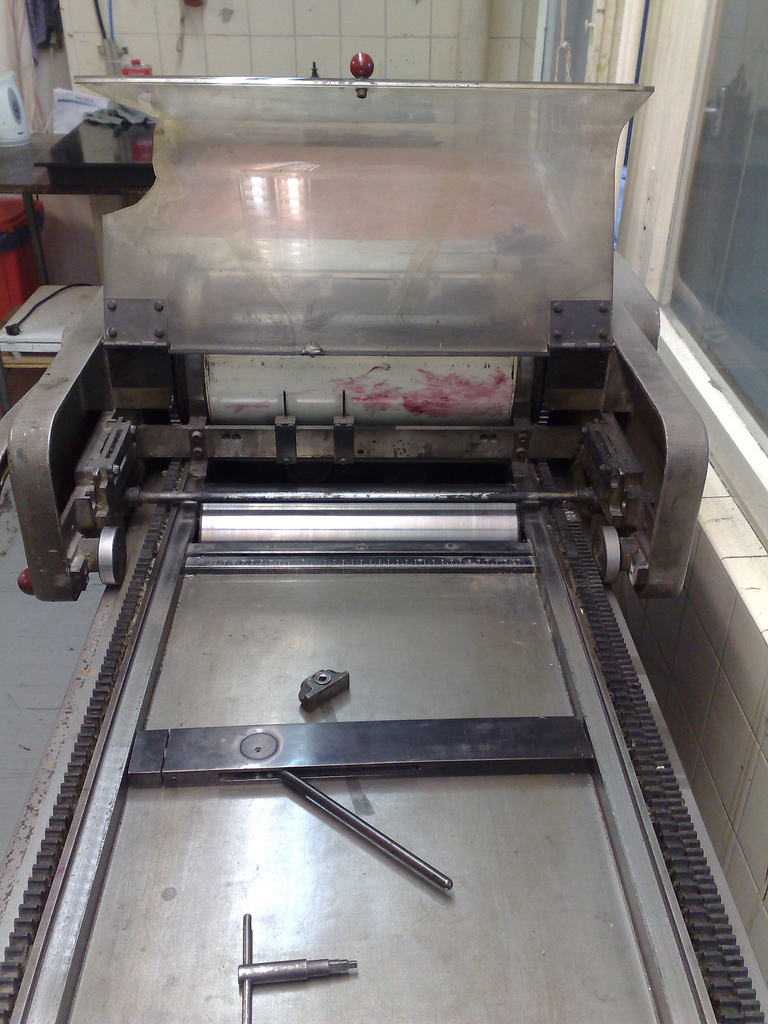 I pawed through the wood type drawers and found enough type to set some dinosaur-sized business cards for my friend Morgan and Frank guided me through the process of setting the type in the bed of the press, locking it into place, inking it, setting paper into place, and then rolling the paper over the inked type to print.  Our "makeready" – getting to the point where all the letters printed equally and well – took about 45 minutes and then Frank left me on my own to explore and experiment as I might.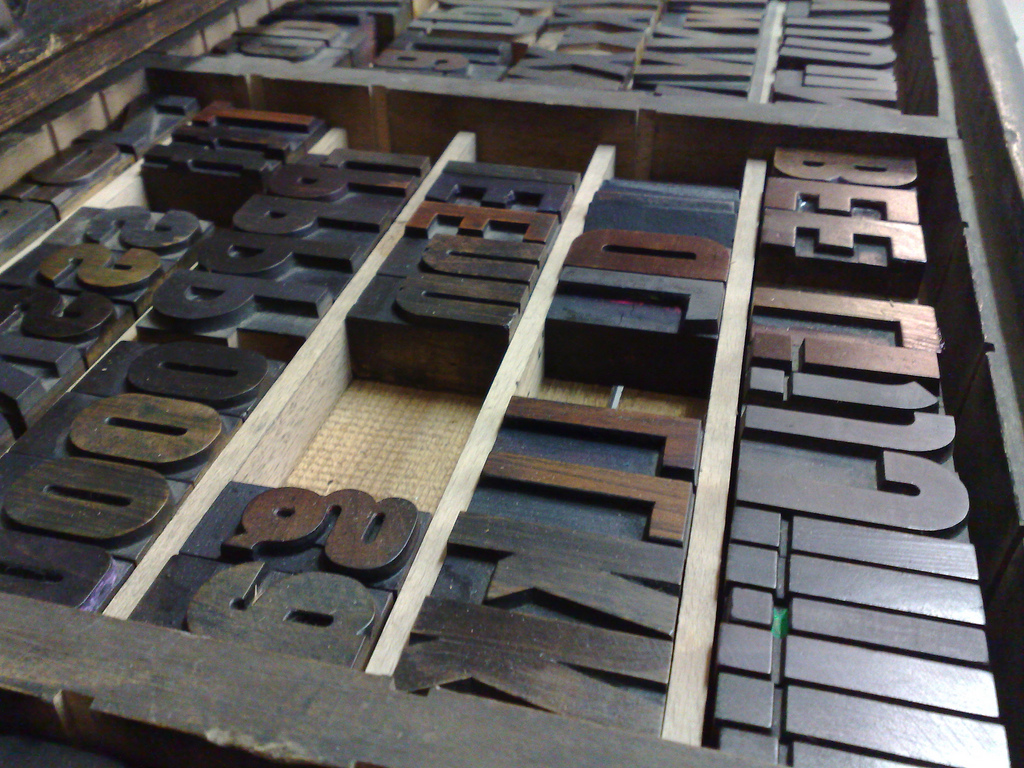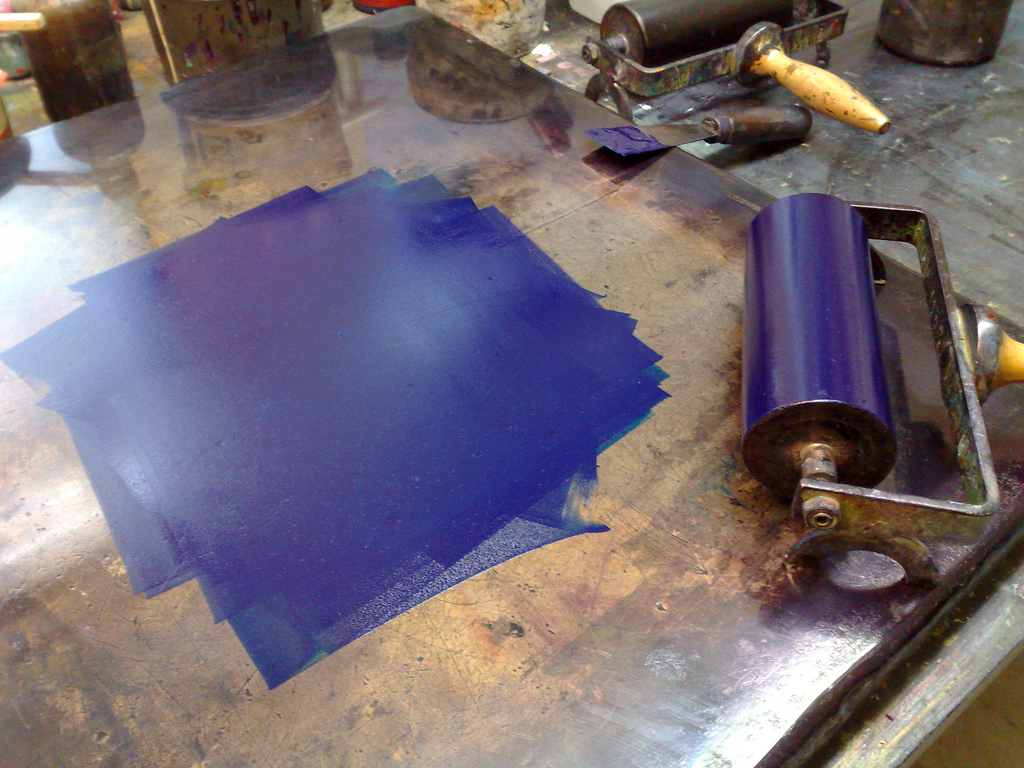 I printed a run of 16 cards for Morgan, cleaned everything up, and then set and printed 20 two-colour postcards to send out to my subscribers (you too can become a subscriber and received something letterpress-printed in the mail).
"Set and printed" makes it seem simple, but what with finding all the type I needed, setting it all up, inking and printing and cleaning up and then repeating for the second colour, it took about 5 hours in all (and thus about 15 minutes per postcard; one quickly sees why the laser printer was invented for rush jobs).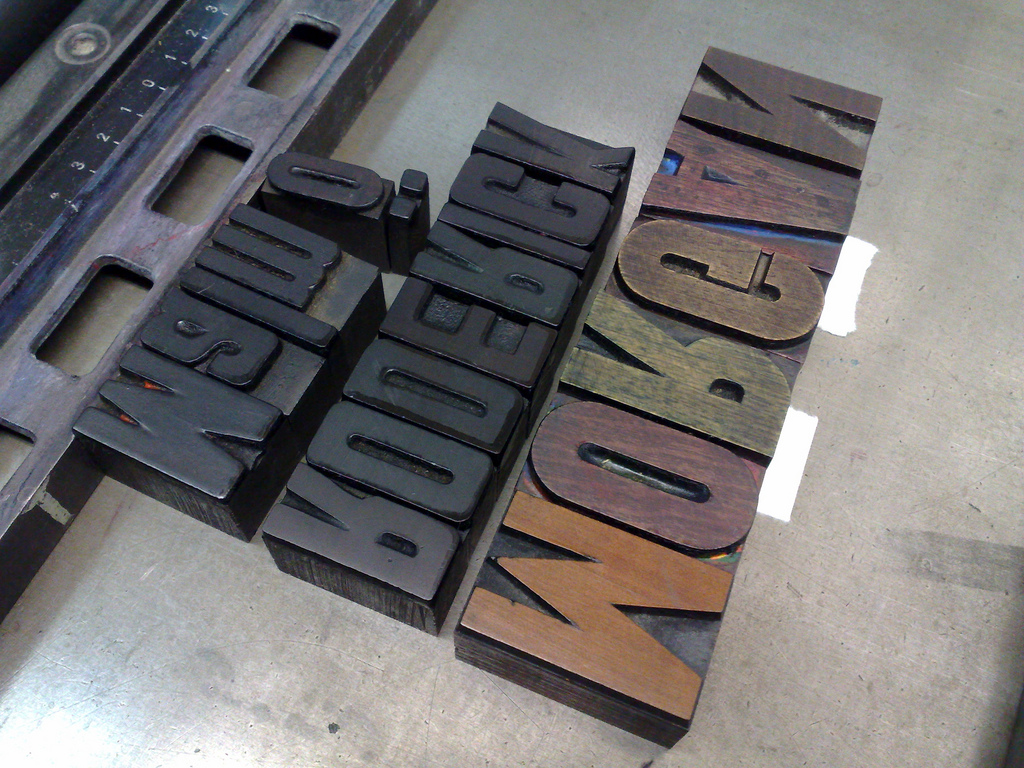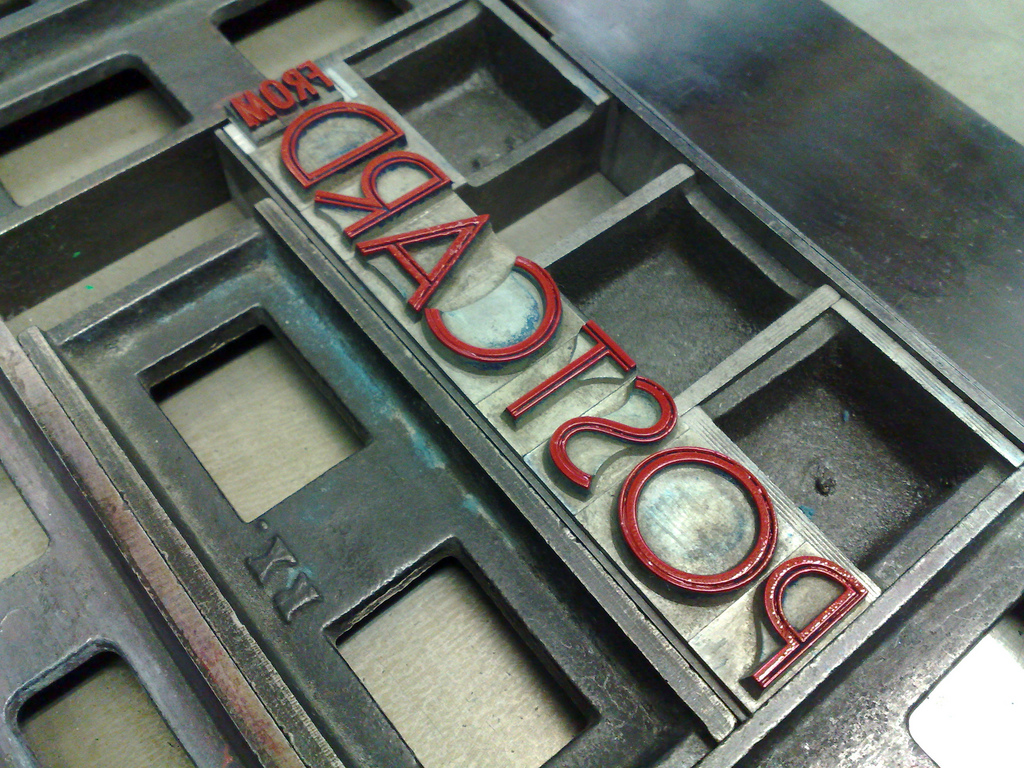 If you want to get the flavour of what Druckwerkstatt feels like, here's a video I shot walking the hall of the basement print studio, then taking the elevator upstairs and out of the building. You can get a preview of the postcards drying at about one minute in.
I'm headed back to the shop later today once everything has dried to trim up the postcards; if everything goes according to plan they should be in the mail tomorrow morning.
In the meantime I've emailed Mathias about the possibility of breathing some new life into an old flywheel-equipped platen press in the hallway that seems to be in good working order but that's sitting unloved and unused; perhaps that will be next Tuesday's project.