When we last discussed my ailing Volkswagen Jetta you may recall that it was in the context of the $3,242.94 estimate to repair it from Brown's Volkswagen.
For additional guidance on this matter I turned to Craig Wilson who, 10 years ago, recommended the dealer, then called Sherwood Volkswagen, as a place to buy a new car. I'd never met Craig, but I took his advice, and I did, indeed, enjoy the purchase and service from Sherwood Volkswagen back in the day. So I reasoned that it would be a good time to check in with Craig to see where he goes these days for service.
Craig gave a ringing endorsement to Dave's Service Centre at the corner of Allen Street and St. Peters Road. I've driven by the place a thousand times, but I'd never been in. Today after dropping Oliver off at school I drove the Jetta over for them to take a look at. The result: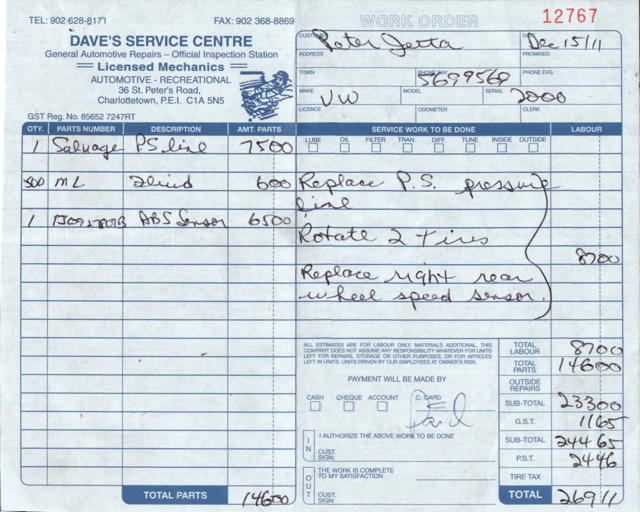 That number over there in the bottom right, $269.11, that's the price, parts and labour, Dave's Service Centre charged me to fix everything but my small exhaust leak (which I didn't ask them to fix). Indeed it includes an additional issue — a wonky ABS sensor — that wasn't an issue until this morning.
The $586.80 that Brown's quoted for power steering lines? Turns out I only needed one of them, and Dave's happened to have a salvaged one around which they sold to me for $75. The shimmy in the front end I'd asked Brown's about? Brown's solution — replace the front struts — was quoted at $709.89. Dave's found the problem to be simply a scalloped front tire, which they rotated onto the rear of the car, no parts needed.
Now it's not really fair to say that Brown's quoted me $3,242.94 to do the same thing that Dave's did for $269.11, because Dave's did different things. The point is that Dave's appears to exist in the real world of solving problems so that cars work better, as opposed to the "how much can we figure out wrong with this car to wring the absolute largest margin out of this guy" world that Brown's VW lives in.
Dave's Service Centre today becomes my go-to place for auto repair: they were friendly, efficient, explained everything to me clearly, showed me the old parts, and sent me on my way. Recommended (I should really send Craig a $3,000 bottle of scotch, shouldn't I).