It's Data Privacy Day today, and I started the day off by reading Five Potential Privacy Pitfalls for Developers from Mozilla. One these pitfalls Mozilla describes as "More isn't always better," described, in part like this:
The key is to collect only what you need. When you are in the planning stages for your app, document the data collection, usage and flows. You should be able to justify each piece of personal information and describe how it will be used. If you plan to collect personal information for future or extra features beyond core functions, always give users the ability to opt-out.
For the past 7 years I've been collecting Google Analytics data on every visit to this blog. This is typical behaviour for websites – even the Mozilla blog post above is collecting Google Analytics data – and is something that allows website owners insight into how their site is being used and by whom.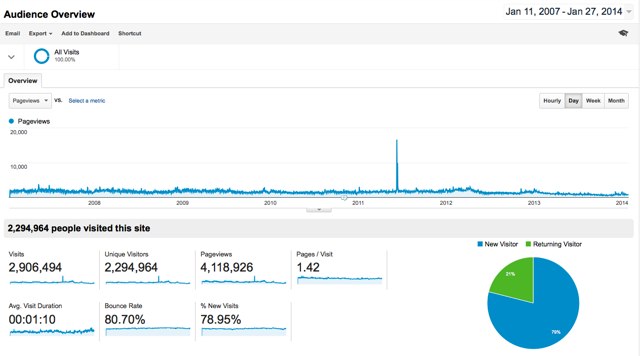 Google Analytics does this all anonymously: it tells me how many people from Virginia visited my blog yesterday, but not who they are.
But even though that's true, as I related late last year, it's not as though the collection of this information comes completely without a price for my readers, because Google aggregates the data I allow it to collect here with data from millions of other websites to form a sort of "behavioural fingerprint" for every reader, with a visit to this space being one small data point that helps to flesh out, to Google and its customers, if not who you are, at least how you are.
Sometimes this is a reasonable exchange – as Mozilla writes, "User data is undeniably valuable and collecting it isn't inherently wrong, especially with consent." – and when I am wearing my commercial hat I can attest that the data Google Analytics provides allows me to help build more effective (for both author and reader) websites.
But here on ruk.ca, well, not so much. I've glanced at Google Analytics data every few months out of interest, learning what posts here are popular, where readers are coming from, how long readers typically spend reading.
But if the "the key is to collect only what you need," then it's hard to justify collecting even anonymous data about you readers, especially if, in doing so, I'm helping Google digitally fingerprint you.
So, starting today at 9:00 a.m. Atlantic time, I have removed Google Analytics tracking from this site. The line graph will flatline, and I will no longer know anything about who you are, how many you are, and what you're reading.
I've always maintained that I write this blog mostly for myself, as a way of processing what happens in my life and what I'm thinking about; it's not a diary, and its publicness has always been important to the rigour of the place, but I've never written for you.
And if I'm not writing for you, then I don't really need to know that you're a 46 year old woman from Idaho who likes TV and is in the market for a new motorcycle.
Enjoy your newfound anonymity.