At this week's meeting of the Mayor's Task Force on Active Transportation we heard from local resident and active cyclist David Sims about his ideas for active transportation in the city (you can watch the recording of David's presentation here).
One of the items David touched on was the possibility of enhancing the cycling opportunities in Victoria Park, and he invited Mayor Brown, who attended the meeting, to join him for a cycle through the park this afternoon, and the Mayor extended the invitation to anyone else who wanted to join.
Which is how I found myself on my bicycle with Mayor Brown, David Sims, Mitch Underhay (from Bike Friendly Charlottetown) and Ramona Doyle (Manager of Environment and Sustainability), riding through Victoria Park: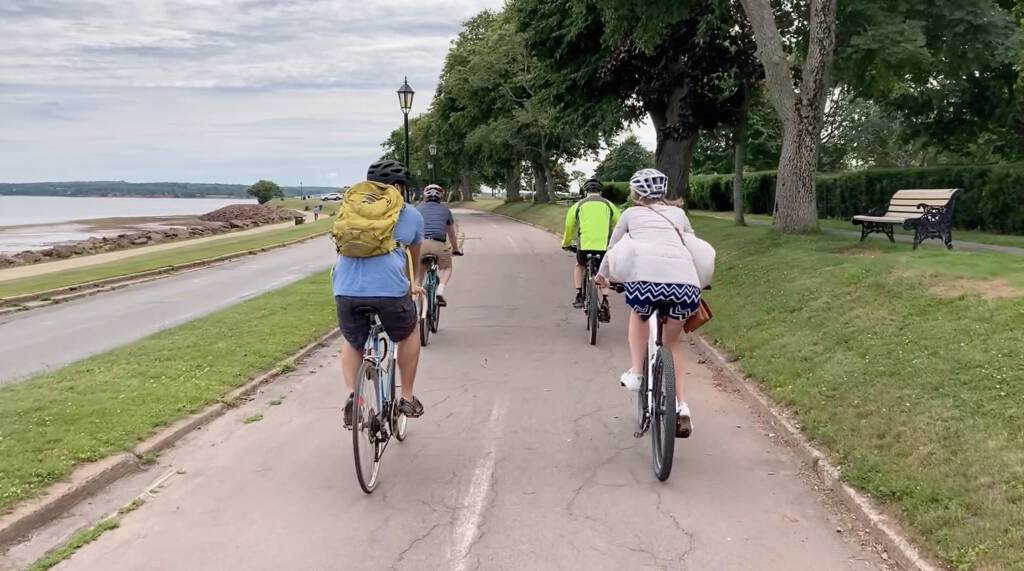 We stopped at several junctures and had good conversations about the park, and about cycling in the city in general. It turns out there's no better way to talk about the possibilities of cycling than while cycling. Beyond having the evidence in front of us, there's a certain collegiality it affords.
More than that, though, I got to experience what it was like to cycle as part of a group: it turns out to be lots of fun, and something I think I'd like to do more of. Not "let's ride to North Cape and have a glass of water" cycling, but "let's ride out the trail to Royalty Junction and have a picnic" cycling. Now I just need to find other lackadaisical cyclists.