With 15 cm of snow in the forecast for tomorrow, I realized today might be my last opportunity to ride the new Riverside Drive active transportation path extension from Park Street to Grafton Street, recently paved as part of the Hillsborough Bridge Path project. So I took my bicycle back out of the basement and prepared for a late-autumn ride1.
The paving has only just completed–I imagine the asphalt was some of the last to flow from the asphalt plant before it closed for winter–and the path is rough and ready enough to not be entirely considered "open" yet (in part because there are no pedestrian/cycle signals installed yet at neither the Grafton St. nor Park St. intersections). But it's certainly possible to cycle, so that's what I did, en route to Riverview Country Market for a late-Saturday grocery run.
To get to the path itself from and back to downtown took some gymnastics: on the way there I rode along Richmond Street to Cumberland, through the Cumberland jug-handle, across the carwash parking lot to the gravel trail that goes around the perimeter of the event grounds to the corner of Riverside and Grafton, and then up the path to Riverview Country Market. On the way back I took an alternate route, around the other side of the event grounds, then along Water Street to Prince and home.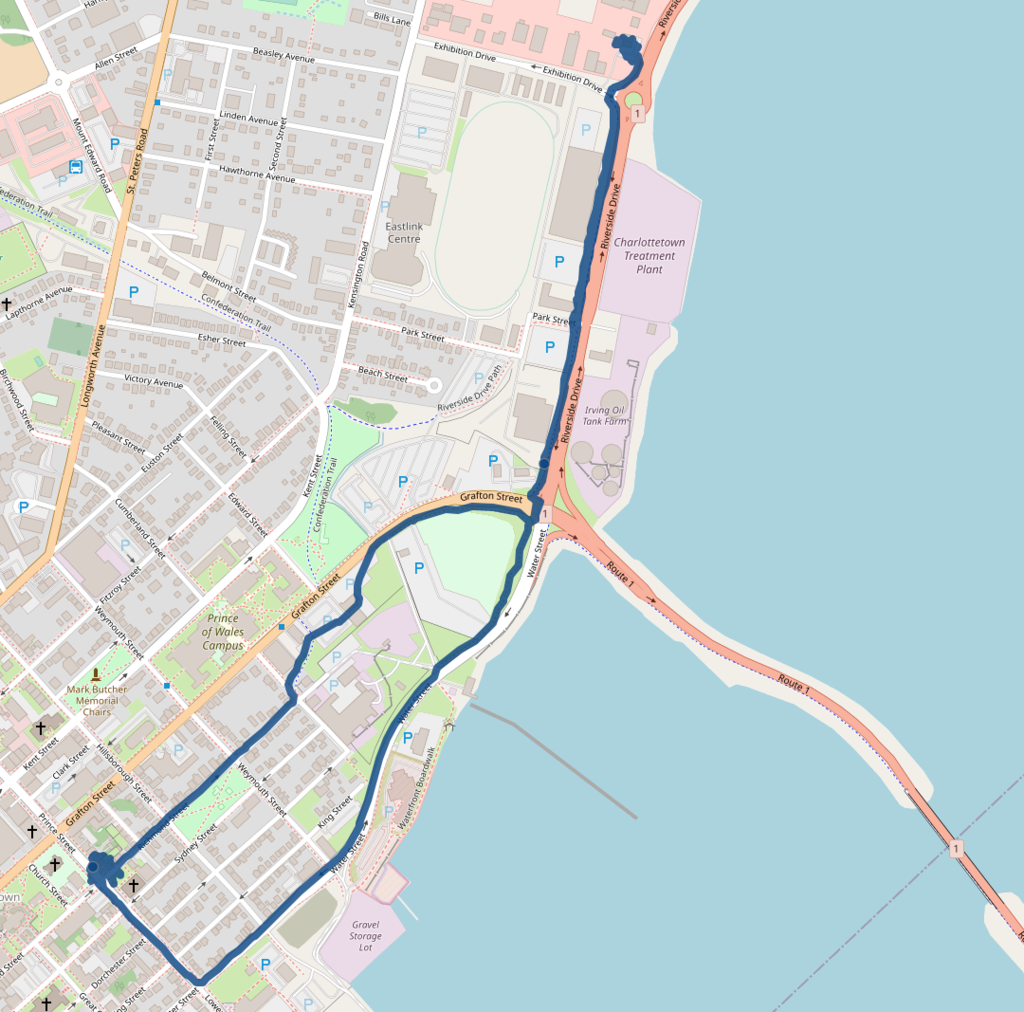 One of the foundational tenets of Bike Friendly Charlottetown has been that by joining existing routes in the city together, we can achieve a safe, interconnected cycling network without needing to build from scratch: this path is one example of that. Once it's formally wired up to the Hillsborough Bridge Path, and the intersections are signalled, it will become an important new link; when the path from the Queen Elizabeth Hospital to Mount Edward Road is finished next year, it will become even more valuable.
Bravx to the provincial government for having the foresight to build this extension into the Hillsborough Bridge project.
1. In taking my bicycle back out of storage today, I extended cycling season by 10 days over last year, making for a total cycling season, starting April 18, 2020, of 238 days, or 65% of the year.