We arrived in Boston on Friday night and checked into the Marriott Boston Copley Place. We're here — or at least I am — for the annual conference of the City and Regional Magazine Association.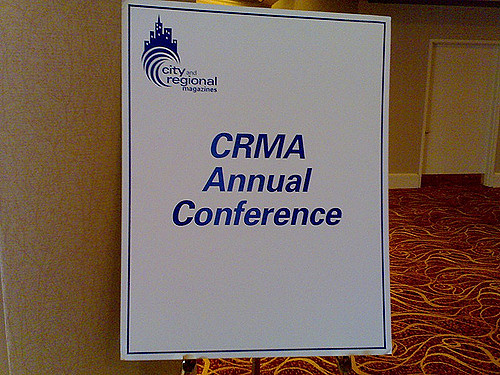 These are the people who make, well, magazines for cities and regions. Looking down my list of attendees I see Jayson from Honolulu Magazine, Hudd from Memphis Magazine, Cindy from Plano Profile and Mary from Bangor Metro. Because they're all making magazines in their own little area, they're an oddly cooperative bunch.
My session, at 3:45 p.m. today on the "Production" track is billed "Web 2.0 — an introduction to web technologies that publishers can take advantage of now or in the near future." Which amounts to what must be the most generic and mundane title for one of my talks yet. I'm up against sessions titled "The Interview," "The Future of Media, Part II," "Special Sections/Ancillary Products/Best Ideas," "The Power of a City/Regional Magazine," and "Developing Circulation for Companion Titles."
I'll post the slides here when I'm done.