I started running Google AdSense content-targetted ads over there on the right-hand side of this website yesterday. This isn't from a desire to make millions of dollars from the clickthrus of my inquisitive and demographically well-tuned readership; I'm simply interested in seeing how this works, and whether one can actually make any money.

In theory, the ads that appear — they come directly from Google's servers — are targetted to the content that appears here. When I turned things on yesterday, however, I was getting ads for the American Cancer Society and Habitat for Humanity (maybe it's because I mentioned "progressive" and "David Suzuki," who knows).

Today, as you can see here, I'm advertising for the Chrysler Sebring: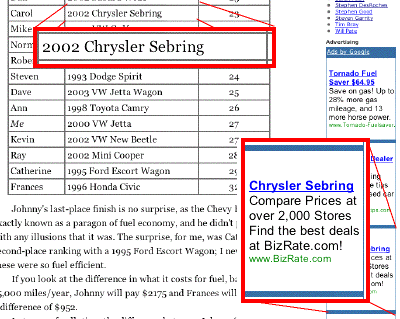 This is because I mentioned the Chrysler Sebring in yesterday's story about fuel economy. The obvious irony is that the Sebring was at the bottom of the fuel economy ratings, so doesn't exactly come off in a good light. I can filter out advertisers; I wonder: can advertisers filter out me?