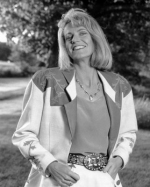 I met Colleen Peterson in the early 1990s when she played a Christmas concert at Artspace in Peterborough, Ontario. I was working as programme director at the local community radio station, and we broadcast the concert live. It was a wonderful evening, and Colleen was a wonderful performer.

One of the songs she played that night was called 1942. I liked the song so much that I wrote to Colleen's mother, who lived just north of Peterborough in the small village of Lakefield, inquiring whether it had been recorded. She wrote me back a very nice note explaining that it hadn't, but that if it ever was, she would be sure to let me know.

In 1993 Colleen joined with Caitlin Hanford, Cindy Church, and Sylvia Tyson for form a "Canadian country and folk music supergroup" called Quartette.

Colleen died of cancer on a Wednesday in 1996.

There's a lovely Book of Remembrance on the Quartette website that's worthy of a good read through.