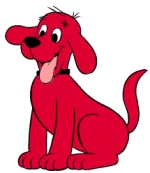 Scholastic, says the company's website "is a $2 billion multimedia company with 10,000 employees operating globally in education, entertainment and publishing businesses marketing to children, parents and teachers."

When I was in elementary school there was some sort of program whereby we students could acquire various Scholastic books through the school (the website calls this the "company's unique school and community-based distribution channels"). I guess I'd always assumed that Scholastic was some sort of benevolent society, like The Gideons; I never imagined it had more in common with Random House than the United Way.

I know all this now because wee Oliver and I have become fans of Clifford the Big Red Dog, which airs every day on PBS. That I can abide watching this show every day amazes me. Not because of the show itself, which is actually quite interesting. But because Clifford is voiced by John Ritter for whom I have latent ill feelings after watching endless episodes of Three's Company. To say nothing of his day-glo condom antics in the 1989 movie Skin Deep. Oliver, of course, has no such hang-ups.

Which brings me to the issues of SRA Tests. Does anybody else remember these? These tests first appeared in grade 7 or 8, I think, and were a series of brightly-coloured cards that came in a special box. In my faded memory each card contained some sort of MENSA-like brain test. SRA stood for Science Research Associates and, again, I always assumed this was some sort of educational organization attached to the CIA or the Pentagon. It turns out that SRA is "is a division of McGraw-Hill Education, the largest pre-K through 12 educational publisher in the nation, and a unit of The McGraw-Hill Companies."

I was only partially wrong: SRA used to be owned by IBM and their instructional model, the "Distar System" was "the only instructional model that the federal government tested in a $500-million, nine-year project that produced significant overall gains in basic skills, cognitive areas and self-concept." I think the SRA products I remember are still around as Performance Based Assessment Tasks.

The next thing you know I'm going to discover that Nestle, who sponsored the large wall maps in the classrooms of my youth, is a profit-making corporation.